The latest box office king "I'm not the god of medicine" directly hits the hearts of the people, not only touching the ordinary people, but also bringing the vast number of medical institutions and medical workers into deep thinking. However, when moving for the courage to live to death, hospitals need to consider how to use smarter technologies to optimize medical procedures and improve the efficiency and quality of medical care. The precious time of medical staff can be used on the "cut edge" of diagnosis and treatment, so that each patient can receive the most timely and reasonable treatment.
Hospitals are like battlefields. All kinds of modern diagnosis and treatment equipment are the "weapon and equipment" used by doctors and nurses to save lives. However, more equipment is sometimes not a good thing. Like daily life, medical staff are increasingly unable to leave various mobile devices in their daily lives. A medical staff carrying mobile phones, walkie-talkies, mobile handheld PBX devices, barcode scanners, pagers and many other devices every day travels between different sick rooms. How much time does it take to switch between different devices, but in fact, these times are completely OK Used to serve more patients? How much cost does the hospital need to invest in the management and disinfection and maintenance of a large number of equipment?
What should you do to save valuable time for medical staff to serve patients and optimize the costs of the hospital? Maybe you have not found a practical solution yet.
TC51-HC touch-sensitive data terminal, Zebra technology is here to give you some tips!
For these medical staff, to solve the above problems, you only need the following artifact!
Zebra Technology TC51-HC touch-sensitive data terminal
With the help of the TC51-HC touch-sensitive data terminal, medical staff can have the functions required to perform almost any task, ensure data security and maintain patient privacy. The five advantages perfectly reflect Zebra's deep understanding of the application in the medical industry.
▼Easy to operate, realizing that every second counts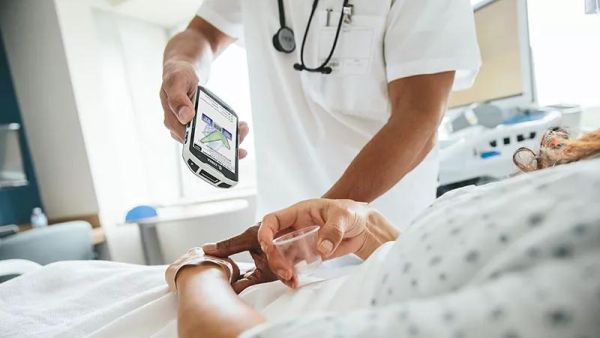 In the hospital, racing against time means saving more lives. For doctors and nurses who count on every second, convenient equipment is essential. The humanized design of TC51-HC can not only buy more time for medical staff, but also make the transmission of information instructions more accurate and reliable:
Need to read content quickly ➤ The 5-inch display provides more room for medical staff to view more important patient data
Quick input, no time to take off the gloves. ➤ Touch screen input mode, even if you wear gloves and the screen is wet
Inadvertently mistyped common medical terms ➤ Customizable medical common words dictionary, automatic error correction, reduce error rate
The environment is noisy, and the instructions may be inaccurate. ➤ The 1-watt speaker with noise reduction technology clearly communicates each instruction
The situation is complicated and voice communication is inconvenient ➤ Secure SMS communication to avoid leakage of sensitive information
There are too many buttons on the device, and the operation is error-prone. ➤ The integrated Active Edge™ Touch Zone allows users to create unique dedicated keys on both sides of the display to access the most frequently used functions with one key. Not only that, TC51-HC sets a programmable button on the back of the device to meet the individual needs of users.
▼Super performance control is responsible for the environment
The ever-expanding rigid medical requirements and the increasingly complex diagnosis and treatment environment place higher requirements on the equipment of medical staff. As a right-hand man, TC51-HC has a powerful performance superior to similar products in the industry, which can make medical staff even more powerful:
With larger memory and up to two to eight times the data storage capacity compared to competitors' enterprise-level medical mobile data terminals, TC51-HC can satisfy medical staff for simultaneous voice communication, image dissemination, information search and other applications Operational requirements.
With Workforce Connect PTT Express and optional cloud-based and cost-effective Workforce Connect PTT Pro technology, medical staff can use TC51-HC for smooth voice communication regardless of whether they are inside or outside the facility, without resorting to others equipment.
With the help of Zebra's scanning engine and unique PRZM intelligent imaging technology, medical staff can achieve ultra-fast one-dimensional and two-dimensional barcode collection-whether the barcode is damaged, dirty, poorly printed, or displayed on the screen .
The front and rear high-definition cameras that are several times better than similar products can not only record the wound status of patients in the ward, but also provide remote consultation services for patients.
The TC51-HC with IP65 sealing specification has a wider operating temperature, not only is not afraid of dust and liquid splashing, but also has stronger scratch and shatter resistance characteristics.
The superb endurance of up to 14 hours ensures that medical staff have sufficient power to meet the needs of long shifts.
With the help of Zebra's CartScan application, TC51-HC can be "transformed" into an extension of a cart-based workstation, enabling medical staff to scan and enter barcodes by TC51-HC at the patient's bedside, thereby enhancing workflow flexibility Sex and work efficiency.
With TC51-HC's support for 802.11ac and 802.11r, users can get faster Wi-Fi speeds and stronger roaming support to achieve reliable application performance.
▼Focus on medical care, safety compliance
TC51-HC complies with the requirements of the Trade Agreement Act (TAA). Relying on Zebra's deep understanding of the healthcare industry, TC51-HC uses sealed screw holes in its appearance design to reduce the number of gaps to a lower level, thereby eliminating the risk of bacterial growth. Advanced medical-grade plastics provide excellent durability, making them have stronger anti-breaking characteristics, and can withstand the continuous cleaning and disinfection of a wider range of disinfection products in the industry.
It has the FDA's ability to accurately identify the UDI logo prescribed by medical equipment, and can help medical staff quickly scan a bunch of barcodes successfully.
TC51-HC has also passed FIPS 140-2 certification, using encryption modules to ensure the safety of patient data in transmission and storage, and actively maintain patient privacy.
▼Future-oriented scalability
The intelligent future of the medical industry requires more flexible equipment solutions. According to Zebra Technology's service and support agreement, the user TC51-HC is upgraded to Android-O, so that the equipment purchased now can always meet the needs of daily medical work throughout its life cycle and achieve a greater return on investment.
The continuous release of function expansion packages will also promptly improve the TC51-HC's ability to deal with more complex tasks, and fully meet the expectations of future medical staff for its intelligent assistants.
Continuously expanding urban population, accelerating population aging, and increasingly scarce medical and health resources are urgent problems that need to be resolved. Use more efficient, humane, and intelligent equipment to make the best use of limited resources, squeeze precious time for medical staff, and strive for more patients' hope of health and even life, instead of being forced to live to death. Every medical institution has the responsibility, and Zebra Technology will work with you to overcome every problem with more excellent technology and more considerate service.