This 618 is different from previous years…
Tmall continues to spread "red envelope rain" offline, encouraging online coupons and offline consumption, and physical stores even offer more favorable prices than online stores. According to multiple media reports, about 70 million people poured into major offline shopping malls on June 18, which is equivalent to the total permanent population of Beijing, Shanghai, Guangzhou and Shenzhen! As a result, 618 is no longer a carnival of "e-commerce", but has become a carnival of "new retail".
The retail industry is picking up, are you ready to take over?
The rise of e-commerce once caused the physical retail industry to face unprecedented challenges. However, in recent years, its own development has encountered a series of problems such as fierce competition for homogeneity, the proliferation of fakes, and the discrepancy between photos and real objects. Consumers have begun to desire a better consumer experience, and offline retail has once again attracted people's attention.
Relying on the Internet, big data and advanced smart technology, the retail industry that has made a comeback has deeply integrated online services, offline experience, and modern logistics, and has a brand-new concept called "new retail."
The "chop hands" who are full of expectations for the "new retail" experience put forward more stringent requirements for offline retail stores than before. So are the retail stores that are going to be restored are ready to take over in terms of technical equipment?
The master key for RFID tags to meet the challenges and opportunities of "new retail"
The new generation of retail owners are facing unprecedented opportunities for development. According to Zebra Technology's 2017 Retail Industry Vision Research Report, 78% of the retail shop owners surveyed believe that the combination of online store and physical store experience will be the future business trend. 49% of the retail stores surveyed have begun to implement the BOPIS form of online ordering and offline pickup. And 90% of the retail stores surveyed plan to complete the transformation in this regard by 2021. However, the new business model also brings greater challenges to their inventory management. Online and offline omni-channel new retail requires an inventory accuracy rate of 90% or even higher, while the current figure is only about 65%. The global annual loss caused by incorrect inventory management is as high as 1.1 trillion U.S. dollars.
How to realize real-time and visual inventory management, and save labor costs, calmly respond to the new retail model of online and offline integration such as BOPIS, so that customers can get a perfect shopping experience, and eliminate no inventory, chargebacks, counterfeit goods, etc. Problem? There is a master key that can solve all the above problems, it is:
RFID tag
According to Zebra Technology's 2017 Retail Industry Vision Research Report, it is predicted that the number of retailers using RFID tags at the project level will increase by 49% in 2016 vs 2021.
How to make RFID tags really bring benefits to retailers' inventory management depends on the upcoming "black technology" of Zebra Technology!
Zebra produced TC20 + RFD2000 to improve the efficiency of inventory management "black technology"!
Using the Android Nougat operating system TC20 mobile computer is currently widely used in small and medium retail stores. Its built-in scanner can easily scan barcodes and can also be used as a walkie-talkie. It has strong battery life and can support all-day use.
So when these retail stores need to transform to a new retail model and want to use smarter RFID technology to improve inventory management efficiency, what should they do?
You don't need to purchase a new mobile data terminal, you only need to equip the TC20 with a good "partner"-RFD2000 UHF RFID Sled, you can easily add high-performance UHF RFID functions to it.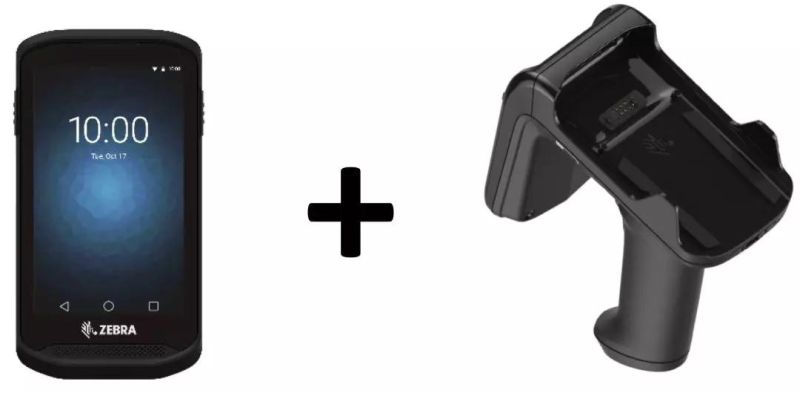 How do these good "partners" work together? You'll know after watching the following video:
With the assistance of RFD2000, TC20 can read, write and locate UHF RFID tags. The following tasks have all been completed efficiently, and the original challenging inventory management has become a piece of cake: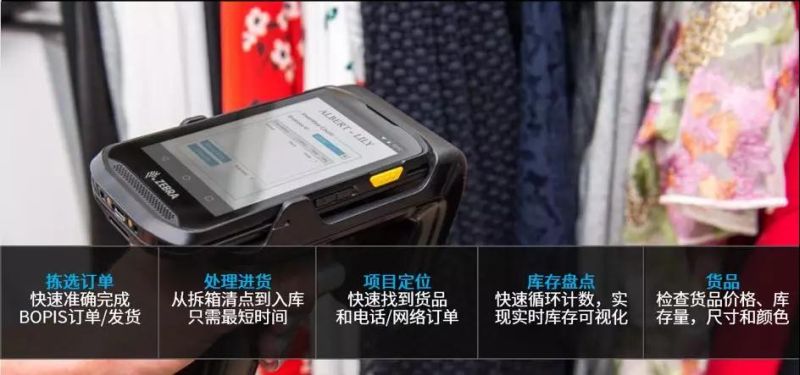 RFD2000 performance inventory
Scientific design, easy to use
RFD2000, as a light and compact device, has an ergonomic design and is easy to use, bringing a new experience to the entire inventory management process.
Fast, accurate and trustworthy
Zebra's high-performance ASIC wireless technology can provide excellent sensitivity, so that RFD2000 has lightning-like inventory counting capabilities, can read 700 tags per second. The clerk only needs to walk through the aisle where the goods are stacked at a natural walking pace, and the RFD2000 can capture all the RFID tag information that it has passed.
Three modes, flexible and versatile
As an intelligent device that can help retailers deal with the "new retail" freely, RFD2000 has three modes, which can widely meet the various needs of retail stores:
➤Geiger-counter mode: Finding the wrongly placed items in your store is like finding a needle in a haystack. However, the Geistlich counter mode makes everything easy and simple.
➤No trigger mode: All tags within the RFD2000 range can be collected without pressing and holding the trigger state.
➤Multi-function trigger mode: With the help of RFD2000, TC20 can "transform" into a handheld reader that can capture barcodes or RFID tags, bringing excellent comfort for scanning-intensive tasks.
Long battery life and convenient charging
With longer battery life than similar products and Zebra's unique power optimization technology, retail clerk can get enough power to meet the needs of the entire shift — even with high-intensity use. Zebra's advanced batteries can provide longer battery life and significantly reduce battery costs.
In addition, Zebra's PowerPrecision removable battery can also provide advanced battery statistics, real-time display of remaining power and battery status-so that the store staff can timely determine and remove aging batteries that can no longer maintain a full charge state.
Unique and flexible charging solution, so that the staff can not only charge RFD2000 or TC20 individually but also at the same time, just through a unique charging stand.
Unlimited intelligence, superior technology
RFD2000 also has two smart technologies that make it stand out among similar products:
1. Just press the trigger once to encode the RFID tag
RFD2000 can easily create combined RFID tags containing barcode data, providing greater inventory management flexibility. Just scan the bar code, and then scan the RFID tag, you can automatically write the bar code information to the tag. You can choose to write a label to one or more barcodes, and you only need to press the trigger once.
2. Prevent counterfeiting and protect consumer privacy
The EPC Global Gen 2 v2 RFID technology used in RFD2000 provides the encrypted label verification required to create non-copyable labels. In addition, before the tag is read by RFD2000, the tag data is hidden and traceable, thus effectively protecting the privacy of shoppers.
Global support, considerate service
With regulatory approvals in more than 80 countries/regions around the world, RFD2000 is an ideal choice for single retail stores and large chain retailers around the world. At the same time, Zebra's customer care program service can make our customers worry-free. This optional comprehensive service can be easily applied online at any time around the clock, and covers multiple items of component failure, accidental damage, and daily wear and tear. No matter when and where, you can get unparalleled professional technical support to help your business avoid the high costs caused by unplanned equipment maintenance and downtime.
Customers are 'relentless', and if you can't provide them when they want something, they will abandon you.
Dr. Bill Hardgrave Dean of the Hubbert School of Business, Auburn University
The recovery of the retail industry and the rise of "new retail" are a foregone conclusion. In the face of development opportunities, future retail stores will face a new generation of more critical customers who have grown up in the Internet era. How to keep their pace and keep their hearts is an issue that every retail owner must consider, and it is the constant mission of Zebra Technology to provide smarter equipment for the retail industry and help them stand on more fierce competition.