TTP-286MT series industrial barcode label printing is suitable for standard label, brand label, inventory control label, environmental warning icon, slogan and wide label printing. Its design concept is "simple and stable, easy to operate, "Affordable", with "empathy" to provide customers with a wide-format barcode label printer with excellent quality, stability, durability and reasonable price, breaking the price myth of industrial models in the market for many years!
TSC's new TTP-286MT series includes two models to satisfy your wide-format label printing
TTP-286MT – 203 dpi resolution, 8.5 inches print width, 152 mm (6")/print speed per second
TTP-384MT-300 dpi resolution, 8.64 inches print width, 102 mm (4")/second print speed
The TTP-286MT series is a multi-functional industrial-grade barcode printer developed by TSC for many special market needs for large-size labels and wide-format label printing. The maximum paper width that can be used is 9.5 inches at 300 dpi. The high-resolution printing width can reach 8.64 inches, and the high-resolution printing width can reach 8.5 inches at 203 dpi.
High-speed printing performance
The new printer uses a high-speed central processing unit and enlarges the memory space to satisfy users' demands for printing quality and speed.
Large-capacity storage space, rich communication interface
The TTP-286MT series has a large memory capacity of 512 MB Flash and 256 MB SDRAM. The standard configuration includes a built-in Ethernet server, USB 2.0, USB host, serial port (RS-232), Parallel.
Color touch screen
The TTP-286MT series is equipped with a 4.3-inch color touch screen and 6 panel operation buttons. The user-friendly design makes it easier for users to operate and use.
Complete equipment
The TTP-286MT series uses aluminum alloy casting printing mechanism with strong body, high durability and good stability, suitable for various harsh working environments, and includes 8.2 inches outer diameter consumables capacity and 600 feet of carbon With capacity. The TTP-286MT series is designed with a centered consumable installation, which is convenient for adjusting consumables.
Superb TSPL-EZ™ high-level printer language
TTP-286MT series of user-friendly TSPL-EZ™ printer language, high compatibility can support line mode (line mode), other brands (Eltron® and Zebra®) barcode printer programming language, in addition to allowing you to easily write The program also provides the best software compatible environment, such as Oracle, SAP, Unix, AS/400, Windows, and provides stand-alone operation.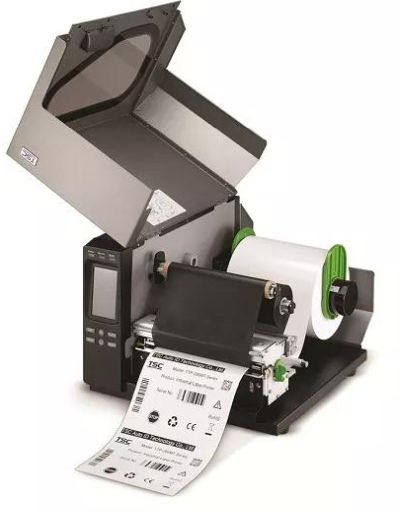 Product main parameters
4.3-inch color touch screen and 6 panel operation buttons
Standard communication interface: serial port, parallel port, Ethernet print server, USB 2.0, USB host
Aluminum alloy casting body with metal shell and transparent window
The usable paper width can be up to 241.3 mm (9.5 inches), and the print width can be up to 219.5 mm (8.64 inches) at 300 dpi high resolution.
The ribbon capacity is 600 meters.
Memory: 256 MB SDRAM, 512 MB Flash
SD card memory expansion slot (expandable up to 32 GB)
The printing speed of 203 DPI resolution is 6 IPS, and the printing speed of 300 DPI resolution is 4 IPS
Humanized high-level printer language
Optional: GPIO interface module, cutter module, Bluetooth module
Scope of application
Regular tags used in logistics and warehousing
Application of complex pattern content
Cargo box, pallet, container label
Inventory control label
Environmental warning slogan
Warning labels for oil drums
Factory user mass printing
Multiple rows of labels