MH240 series is a new product in TSC's industrial label printers. It has built-in high-quality print head printing technology, high-speed processor, high printing efficiency, and large-capacity memory, which fully meets the needs of customers who pay attention to high-speed printing and printing quality.
Improve print quality
With high-quality print head printing technology, high-speed processor and upgraded firmware, the MH240 series presents the best print quality. TSC's "Thermal Smart Control" print head control printing technology can track and calculate the heating time of each pixel at the appropriate interval, so that the print head can be evenly heated every time no matter a small batch or a large number of labels are printed, thereby providing clear, High quality barcode printing.
Color touch panel
MH240 series includes a 4.3-inch color touch panel and six operation buttons, which is more convenient for user-friendly operation. For example, label calibration can be completed with just one button, and the menu list can be customized and provided with a security management mechanism. , to prevent the staff from accidentally touching the printer and affecting the operation of the printer.
Various resolutions provide multiple printing
The MH240 series can be printed in a variety of label formats, ranging from medical industry drug labels, electronic product labels, jewelry labels, to logistics and transportation labels.
The series includes a total of 9 models, of which the 203 dpi model with a maximum print speed of 14 inches per second is the MH240/ MH240T/ MH240P;
The models with 300 dpi maximum printing speed up to 12 inches per second are MH340/ MH340T/ MH340P;
The 600 dpi high-resolution models are MH640/ MH640T/ MH640P, which are suitable for high-density 2D barcodes, icons, small characters or other graphic labels that require ultra-high resolution printing.
Fully equipped
MH240 series is designed with a solid aluminum alloy casting printer body, with high durability and good stability, suitable for various harsh working environments, and includes 8.2-inch outer diameter consumables capacity and 600 feet of carbon ribbon capacity, satisfying High volume printing needs.
Standard roll label rewinding module
MH240P/ MH340P/ MH640P built-in whole roll label (outside roll type) rewinding module, support 3-inch spindle label recycling function, improve work efficiency.
Superb TSPL-EZ Advanced Printer Language
MH240 series includes user-friendly TSPL-EZ high-level printer language, high compatibility can support line mode, other brands (Eltron® and Zebra®) barcode printer programming language, in addition to allowing you to easily write programs, It also provides the best software compatible environment, such as Oracle, SAP, Unix, AS/400, Windows, and provides stand-alone operation.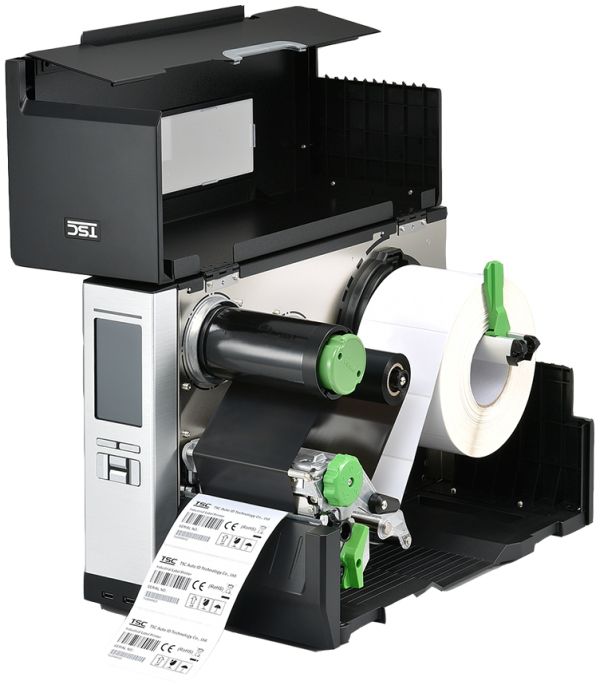 TSC MH240 Product Features
"Thermal Smart Control" print head controls printing technology, providing clear, high-quality barcode printing
Up to 356 mm (14 inches) per second printing speed
Color touch screen with new graphical user interface provides user-friendly operation
The standard version is equipped with a 3.5-inch color screen and 6 panel operation buttons, and the advanced version is equipped with a 4.3-inch color touch screen and 6 panel operation buttons
Supports small label peeling-minimum length up to 0.5″:
MH240/MH340/MH640/MH240T/MH340T/MH640T
Standard 8-inch OD label rewind module
(MH240P/MH340P/MH640P)
USB host can be used with keyboard or scanner, supporting stand-alone applications
203 DPI, 300 DPI and 600 DPI resolutions, print head replacement automatic detection function
The maximum length of the ribbon can be up to 600 meters
The microSD card memory expansion slot is easily upgradeable to 32 GB
Ribbon and label capacity display
TSPL-EZ is a humanized high-level printer language, making it easy to write programs
Complete optional accessories: label stripping module, GPIO interface module, Bluetooth wireless transmission module, 802.11 a/b/g/n wireless network module, multiple cutter options
Energy Star Certification
Scope
Factory user mass printing
Standard tags for automated systems
Food Processing Industry Labels
Price marking, tag printing
Logistics warehouse management
Various medical labels
Transportation ticket printing and management
Jewelry Electronics Label