Millennials are changing their eating habits, and the market is rapidly evolving to keep up with the needs of all 75 million people. Whether it is their favorite food or shopping, the market is changing drastically to meet new demands.
According to a report from the U.S. Department of Agriculture, millennial families buy unprocessed foods such as fruits and vegetables, rather than processed foods such as pasta and potato chips. Millennials are turning to healthy, fresh and organic food.
Change the game
Due to millennials' desire for fresh organic food, the demand for preservatives and canned food is dwindling-grocery stores must adapt. Fresh products in the outer circle of the store began to sell more, while the products in the center store lost momentum.
Millennials also want convenience.
In fact, 55% of millennials say that convenience is one of the most important factors when deciding which food to buy. To meet this demand, grocery delivery is becoming more popular, which in turn reduces the number of impulse purchases in the store.
This preference for convenience and quality has also opened up markets for lunchbox delivery companies such as Blue Apron and grocery delivery services such as Amazon Fresh and Instacart. All of this is possible because the cold supply chain has changed with millennial-driven demand.
From the food consumed by millennials to the way food is transferred from one place to another, everything is changing rapidly:
Food logistics has been transformed into a "last mile" ready delivery truck
Third-party logistics has changed its warehouses and equipment to accommodate the increase in fresh and frozen food,
Manufacturers must comply with new government agencies and regulations to ensure product traceability.
Let's look at how the eating habits of millennials have led to this shift in this industry.
Changes in supermarkets
The eating habits of millennials are changing the layout and strategies of supermarkets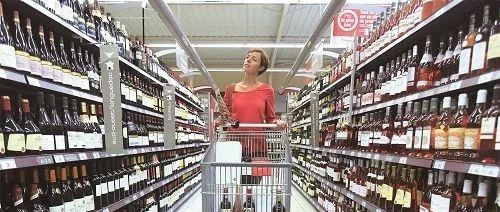 Everyone in the supermarket is no stranger and cannot be changed. From the 1900s to the 1950s, big brands dominated the shelves of affordable foods, which were rich in preservatives and artificial colors. In the 1950s, freezers became popular, and there was a high demand for frozen food.
Millennials tend to choose healthier foods, and these foods ignore large amounts of fat, cholesterol, sugar and carbohydrates. Instead, they target organic, fresh, and frozen foods found outside the grocery store, which is bad news for an industry that is already plagued by low profits.
Store layout and impulse strategy
Although people's preference for products in the outer circle has begun to define the tastes of millennials, a long time ago, grocery stores would try to increase impulsive purchases when designing stores.
For specific reasons, the most frequently purchased products are placed in the back of the store.
Although it may not seem like this, the design of the store layout requires a lot of planning and research. For example, the end of the aisle sells more than the end in the middle. Many grocery stores take advantage of this advantage, such as using wing racks to attract the attention of customers.
Grocery stores rely on the impulsive behavior of shoppers, and their store layout proves this.
The Journal of Marketing Research found that ordinary shoppers went back 3 times in stores they were familiar with and 6 times in unfamiliar stores. This provides some opportunities for merchants to influence shoppers to purchase products spontaneously.
The problem lies here.
Now, the grocery store must solve two problems to win the business of the millennial generation: let the entire generation support grocery shopping and develop the cold chain. In order to keep up with the growing needs of the largest population in the United States, grocery stores have invested billions of dollars to ensure the fresh and frozen foods that millennials want, keeping them in quality and quantity.
The average number of visits to the grocery store per month
Millennials-5.33 times a month
Gen X-6.27 times a month
Baby Boomers – 7.33 times a month
Traditionalists-7.78 times a month
Millennials not only actively avoid central stores, but they also avoid grocery stores altogether.
Food delivery and online shopping
Millennials want their food to be healthy, fast and easy to make, and the trend changes so fast that dozens of companies and service organizations start business every day to meet new market demands.
The trend is that millennials in urban areas cannot drive and do not want to waste time going to the grocery store. For these people, it is easier to deliver groceries or meals to them.
Today, this trend extends far beyond urban areas.
These demands have led to explosive growth in two new markets: groceries and meal package deliveries. However, the growth of these new markets has brought many logistics challenges.
Online grocery shopping and delivery
According to Statistica, by 2021, U.S. online grocery sales are expected to grow to nearly 30 billion U.S. dollars. Instacart and Amazon Fresh are the two leaders that have emerged in this field.
Instacart
Instacart is expanding its grocery delivery service, thanks in part to millennials
Instacart is currently valued at more than $4 billion. In fact, "Forbes" ranks Instacart as the "No. 1 Most Promising Company in America", and the company is continuing to expand its grocery delivery services. Their value to millennials is simple: eliminate the burden of time spent in the entire shopping process. This includes going to the store, walking through the aisles, waiting at the checkout, and bringing the goods home.
In short, they provide millennials with something more valuable than money: their free time. Although this sounds like a victory for the grocery store, it comes at a huge price-impulse purchases are no longer required.
Amazon
Ordering groceries online means that grocery stores must find a new way to adapt.
Ordering online has greatly reduced the number of impulse purchases, resulting in fewer ways to attract shoppers to products that may be of interest to them. The grocery store must find a new way to adapt, because the desire for convenience will not disappear.
As early as June 2017, Amazon bought Whole Foods, an organic grocery chain, for $13.7 billion. This purchase started Amazon's involvement in the food industry because they aimed to provide food to customers.
In February 2018, Amazon and Whole Foods Supermarkets began to provide groceries directly from Whole Foods Supermarkets in certain cities. Customers can buy their groceries online, including fresh produce, and arrive in their hands in two hours or less.
Amazon has also begun to implement its loyalty program Amazon Prime in its new grocery delivery strategy. Prime members who shop at Whole Foods will receive 5% cash back through the Amazon Prime Rewards Visa card.
Services such as blue aprons provide an ideal solution for millennials to find convenient organic food. Blue Apron delivered all the ingredients needed to cook a meal at home, making the meal healthy and fast.
Some home delivery meal package options focus on special diets.
Some examples include:
Purple carrots – focus on making their meals 100% plant-based
Green blender-focus on healthy juice
Sun basket-completely organic
The lunch box company will not disappear anytime soon. They are currently a $2.2 billion business and are expected to grow at an annual rate of 25-30% in the next five years.
Cold chain
Cold chain is just a term for the management and transportation of temperature-sensitive products in the supply chain. This may include foods that require refrigeration, such as dairy products and meat or medicines. Basically, anything destroyed by temperature changes can become part of the cold chain. Since dried and processed products such as granola bars, biscuits and most canned foods can be kept edible without refrigeration, they are not considered part of the cold chain.
It is much simpler to transport dry and processed products, but as the demand for fresh products increases, changes must be made.
Transportation Challenges
Changes in eating habits directly affect the cold chain.
Transportation companies must adapt to the problem of delivering food safely and quickly before it spoils. These changes to the temperature control structure can be expensive, especially because of the 8-15% increase in transportation costs in the United States.
Refrigerated transportation units are also increasing.
In fact, by 2020, the global commercial vehicle market is expected to reach 29.1 million vehicles.
This is not as simple as putting the freezer in a truck. Food must be stored at several different temperatures to avoid damage and deterioration, and to allow for proper air circulation.
The device must have a certain grille on the floor, and the distance between the goods and the ceiling is 15 cm. This is important because the internal temperature must be lowered. The truck is also painted a lighter color to increase the amount of light reflected, thereby helping to reduce heat.
Last mile and third-party logistics
Another challenge facing cold chain demand growth is the last mile.
The last mile is the term used for the final stage of transportation that takes the product to its final destination. In this case, it is the customer's home.
The last mile is a difficult obstacle to clear because transporters need the right equipment to prevent food from spoiling due to temperature fluctuations during transportation. Industrial trucks are being developed into refrigeration equipment with multiple temperature settings, but the last mile is usually completed by delivery drivers who cannot use that particular type of storage equipment.
Even if the delivery driver has the correct storage options, problems can occur if the customer is not at home when the groceries arrive. It is not feasible to keep fresh food in hot weather.
In order to solve this problem, the food company tried a new concept:
In September 2017, Wal-Mart announced that they would test a new grocery delivery option—deliverymen would enter customers' homes and release groceries if they were not present. Since people are uncomfortable with the idea of ​​strangers entering their homes, the public is not too satisfied with the new features. Wal-Mart no longer provides this feature.
Shipt will call the customer's mobile phone and ask how to complete the delivery, but they admit that someone should receive the delivery at home.
Blue aprons use insulating linings and refrigerants to pack their boxes, but they still prefer someone to deliver them.
Although it is difficult to provide solutions to rapidly changing trends, new requirements mean that there are always opportunities for innovation.
Innovative solutions
New trucks are equipped with refrigeration and freezers
The design of trucks is changing to accommodate cold chain items
Truck model can transport refrigerated and dry goods
In order to stay ahead of the trend, Jarossy recommends reading information about current events and going to industry trade organizations to listen to expert opinions and to listen to customer needs.
Many new trucks and technologies have been tested to adapt to new trends and cold chain growth. Mickey Truck Bodies, the largest supplier of beverage trailers and beverage bodies in the United States, recently launched a refrigerated truck with thermally efficient panels on the roof, walls and floor.
Morgan Corporation recently announced their new truck, which attracts retailers looking for low-weight vehicles. The truck is used for transportation from the store to the customer's home, has multiple temperature zones, and is easy to load and unload on the roadside. There are many retractable shelves and telematics systems, it is 20% lighter than the ordinary body design.
Kroger, the largest supermarket chain in the United States, began to improve its equipment in 2016. They are changing the design of their trucks to improve fuel efficiency and expanding the use of multi-temperature trucks so that they can transport both refrigerated and dry goods at the same time.
Creative packaging
Not only is the mode of transportation changing, but recent trends call for increased creativity in packaging so that food can be kept cold for as long as possible in designated packaging.
For non-perishable dry food, the last mile is no problem. Research done by the Food Marketing Association and Nielsen estimated that 40% of the merchandise purchased in the central store will be ordered online in 2025.
Grocery stores can use third-party logistics or cooperate with existing delivery services. Stores can also start to build their own fleet of safety trucks to meet demand.
Only one error in the long line of cold chain delivery can damage the product, so every detail must be carefully checked. Some examples of this could include:
Products left unattended during uninstallation
The temperature in the warehouse where the product is stored has risen
The temperature control equipment of the delivery truck is malfunctioning
The driver failed to deliver the product on time
FSMA and public health
isTo ensure public health and safety, former President Barack Obama signed the Food Safety Modernization Act (FSMA) into law in January 2011.
FSMA allows the Food and Drug Administration (FDA) to regulate the way food is processed. These regulations include the power to recall products that may cause disease.
In many different situations where the cold chain can be compromised, keeping up with demand and FSMA is more difficult than ever.
Third Party Logistics
As transportation and grocery companies are making new changes, third-party logistics is also reshaping its storage technology.
So, what exactly is third-party logistics?
Third Party Logistics or 3PL is a company responsible for supply chain processes, such as warehouse inventory and management, transportation and delivery, etc. Simply put, they hold stocks in stores and companies.
3PL must also adapt and change technology so that food can be delivered to them.
In 2017, Wabash National, the largest semi-trailer manufacturer in North America, acquired Supreme, a truck body manufacturer. This was done to accommodate the growth of e-commerce food delivery and led to the introduction of dry and refrigerated trucks.
D&D wholesale distributors have begun to cooperate with Volta Air to test the vehicles' all-electric refrigeration devices so that they can provide more products.
Demand for fresh products
3PL grows with the demand for fresh products. In fact, the global 3PL revenue reached 802 billion US dollars in 2016, and it is currently expected to exceed 962 billion US dollars in 2020.
Due to the increase in fresh produce, 3PL is also forced to develop to meet consumer demand and adapt to maintain cold chain supply. More demand for fresh food means that 3PL needs to accommodate more fresh food inventory space. This means buying expensive industrial freezers.
This may cause issues that the warehouse manager does not need to consider. This can include learning how to keep the warehouse cool in the summer to ensure that the product stays fresh, and assessing that the distance between the supplier and the customer is longer as food spoilage worsens.
Each product has a specific perishable time, so careful attention must be paid to maximize shelf life.
The rise of FSMA
Another change brought to the market by millennials is a stronger demand for visibility into cold chain supply. In order to increase visibility, the Food Safety Modernization Act was put into action.
But why is FSMA the most recent development?
Well, it actually originated from another program, the "Product Traceability Program" or "PTI".
According to data from the Centers for Disease Control and Prevention, 48 million people die from food-borne diseases in the United States each year, and 128,000 are hospitalized, of which 3,000 die from food-related diseases.
FSMA not only responds to food-borne diseases, but is also committed to preventing these diseases. FSMA has formulated very clear rules and guidelines for products to ensure that the products are fresh from the manufacturer to the customer and are taken care of at each checkpoint.
Every item shipped must be tracked and explained in every location. This allows FSMA to accurately track where the item has deteriorated during transportation. In addition, it can also help FSMA determine which other products may cause harm to customers.
How does FSMA work
FSMA forces companies to have better visibility into their products, so if something goes wrong, they can easily trace back to determine what went wrong.
Imagine-a local baker makes ten batches of muffins. A customer reported that while selling these muffins, the muffins they bought made them feel sick. Now, the baker must determine which muffins are the culprit of this disease.
The FSMA provides rules and guidelines for similar situations.
If the FSMA rules are followed correctly, the baker should know exactly which muffin comes from which batch. From there, the baker can look at the ingredients to determine what is disgusting.
For example, if the butter used in the recipe is not good, the baker will be able to review and evaluate other specific ingredients used. The baker will then be able to recall any items he baked with contaminated ingredients, thus preventing further customers from getting sick.
Thermal label helps FSMA
In order to keep up with the new food safety and regulations, Jarossy said that Morgan has started to use telematics technology. This is a wired or wireless system that can monitor various activities of the entire truck or truck body. It alerts people when the door is open and how long it is open, and monitors various aspects of the truck, such as the temperature range. Not only that, but the device sends the collected data to the driver and returns it to the software warehouse for analysis.
freezing label and temperature label It is a tool used to help visualize FSMA.
Refrigerator and temperature label
Freezing labels are heat-sensitive labels made of adhesive, which can withstand low temperatures to prevent damage and peeling. It is important to ensure that the label is applied. If the label is lost, the product cannot be tracked and therefore does not comply with FSMA.
The thermal label of the freezer has two variations: heat transfer and direct thermal.
Many people who use direct heat freezer grade labels prefer to use polypropylene labels or top-coated freezer labels. This durable material can withstand the harsh environment of cold storage warehouses.
For companies that use freeze-grade heat transfer labels, most companies use paper labels because they are much cheaper than polypropylene heat-sensitive labels.
The temperature tag will track the temperature of the weather so that people can see the temperature of the product and whether the temperature drops too low.
Conclusion
In general, millennials crave healthier and more convenient food, which has had a huge impact on cold chain and grocery store operations.
Emerging markets (such as online grocery shopping and food delivery services) are booming with development opportunities. Although the location of grocery stores has been compromised, they recognize these new trends and are taking the necessary steps to maintain livelihood.
Transportation companies and third-party logistics are also involved by installing freezers in trucks and storage facilities. Government regulations make cold chain logistics safer, allow the public to buy fresh food through FSMA, and increase product visibility.
With all these changes in place and continuous development of conditions, we can expect to see more modifications and innovations in the future market.