Industrial interconnection, smart creation of the future
In late May, 2018 China was co-sponsored by China Academy of Information and Communications Technology, Ningbo Economic and Information Technology Commission, Ningbo Yinzhou District People's Government and Zebra Technology's software strategic partner-UFIDA Network Technology Co., Ltd. The Industrial Internet Conference (Ningbo) was successfully held.
Zebra Technology attended the scene as a co-organizer. Nearly 10,000 online and offline government leaders, entrepreneurs, manufacturing industry experts, and media friends witnessed the growing momentum of the Industrial Internet and how the emerging technologies that are disrupting the industrial field are being applied and combined. Wisdom builds the future.
Zebra technology helps the digitalization, networking and intelligence of manufacturing industry
During the meeting, An Xiaopeng, deputy director of the Information and Software Department of the Ministry of Industry and Information Technology, pointed out: "In the construction of the industrial Internet platform, data collection is the foundation." To meet the demand, Zebra Technology brings its innovative product portfolio in the manufacturing field to this conference-MC3300 mobile computer, 3600 series ultra-durable scanner, ET50 enterprise-class tablet computer, etc.
Through a complete end-to-end solution-from mobile computers and scanners to dedicated printers, RFID, software and services, help customers identify, track and manage important assets, personnel and transactions, thereby simplifying operations and improving work The efficiency of personnel can realize the optimal allocation of manufacturing resources.
Intelligent technology is subverting the industrial field, and the industry's tremendous changes are also ushering in an interconnected future. In 2017, the State Council issued the "Guiding Opinions on Deepening "Internet + Advanced Manufacturing" and Developing Industrial Internet", which clarified that the current construction of my country's industrial Internet platform should improve the level of industrial Internet innovation and application of large enterprises, and accelerate the application of industrial Internet by small and medium-sized enterprises. universal.
Zebra Technology is willing to work hand in hand with partners to strengthen industrial support, promote open cooperation, and help more companies realize digital and intelligent transformation when facing new economic environments and challenges, so as to create a smart and interconnected corporate community .
Intelligent enterprise assets allow enterprises to intelligently connect
The changes that digitization and intelligence will bring to enterprises are not only reflected in the upgrading of IT, DT and other systems, but more importantly, making enterprises' operations more agile and management easier.
In order to promote the digital transformation of the manufacturing industry, Zebra Technology uses a wide range of forward-looking, technology-driven visualization solutions and product lineups to help enterprises realize intelligent asset management. Through perception, analysis, action, insight into the business, real-time data and analysis, to give employees more real-time and effective support.
The visualization of Zebra technology can be flexibly applied in various important fields such as transportation and logistics, retail, manufacturing, and medical care. Choosing Zebra's logistics solutions can move goods more quickly and efficiently, helping transportation and logistics companies maintain visibility of goods, assets, personnel, processes, and places throughout the continuous supply chain—from railway stations, seaports, and From airports to terminals, warehouses and distribution centers, as well as on-site and delivery services, smart logistics can empower the digital transformation of manufacturing.
Zebra technology's enterprise asset intelligence can give customers and their businesses more visibility, allowing enterprises to be as intelligently interconnected as the world they live in.
Zebra is made intelligently for you
Mobile computers, scanners, tablet devices, and printers-built to help you conduct your business better. Zebra printer driver download
---
Zebra MC3300 mobile computer: more models, more scanning options, more durable designs and more advanced accessories
MC3300 allows you to easily migrate to the next generation mobile business platform-Android. As the leading operating system in the field of consumer devices, it now serves the enterprise business field. In warehousing scenarios where picking tasks are frequent, MC3300 can escort your business operations.

Support existing terminal emulation (TE)
The application is ready to use out of the box
One of the commonly used TE software-Ivanti Velocity is pre-installed, and the TE application can be run out of the box without back-end modification or user training. If you want to create a modern TE application, the pre-installed Mobility DNA's All Touch TE can transform the traditional "green screen" into an intuitive interface with touch as the core.
Zebra Mobility DNA
——A customized toolbox composed of powerful applications
The development and deployment of applications has become easy. Add new functions to your MC3300 to simplify the daily process-it can collect labels with a variety of barcodes, Instant intercom call, customized screen interface, and control application access to improve work efficiency.
Combination of large touch screen and physical keyboard
The combination of touch screen and keyboard provides staff with a different experience. With a variety of appearance specifications (straight head, rotating head, handheld), the lightweight and ergonomic design of the MC3300 is not only popular in warehouses, but also an operational tool in retail stores.
Scan performance and options to meet your needs
MC3300 can meet the needs of short, medium and long distance scanning, whether the barcode is close at hand or far away on the shelf. The MC3300 can also successfully capture barcodes that are in poor condition-dirty, faintly printed, or under shrink wrap.
Zebra 3600 Ultra Durable Series Handheld Scanner: Here's the start of uninterrupted performance
Work efficiency is one of the important factors affecting labor costs, order delivery time profitability, customer satisfaction and customer retention. In manufacturing plants, warehouse corridors, outdoor goods yards and ports, workers rely on scanners in their hands. Quick and accurate bar code collection is the only way to improve work efficiency.

Industrial strength suitable for challenging environments
The 3600 series has durable specifications to deal with inclement weather and unexpected conditions. For example, it can withstand the impact of a drop from a height of 8 feet, run as before after 5000 times of continuous rolls, endure 30 minutes of complete immersion in water, and be used normally under the extreme temperatures of cold storage and outdoor cargo stations.
Scan any barcode under almost any conditions
Scan one-dimensional and two-dimensional barcodes, even damaged barcodes that are stained, illegible, and deformed. You can collect up to 20 barcodes at the touch of a button, saving operating time. The 3600 series scanners can also collect and print barcodes and electronic barcodes to prepare for the present and the future.
Using cordless technology, up to twelve models to choose from
With Bluetooth 4.0, get the sense of freedom brought by cordless scanners, with sufficient battery power to support 70,000 scans or more, meeting the needs of the entire shift.
Easy management tool
Using 123Scan², the scanner can be automatically monitored and the two-way communication required for preparation can be automatically established within a few seconds. The scanner management service (SMS) can be used to remotely customize the scanner parameters and update the firmware. Through Zebra's PowerPrecision + Battery Learn more about battery indicators, extend battery life and ensure healthy operation.
Zebra ET50 enterprise-class tablet PC: an enterprise-class tablet PC, a variety of accessory options, countless applications
When faced with high-cost consumer tablets with few functions for enterprises, and durable tablets with too many unnecessary features and high prices, ET50 is an ideal choice-it can improve labor productivity without sacrificing consumption The fashion of similar equipment, from the warehouse to the front desk of the store, has both practical functions and stylish design.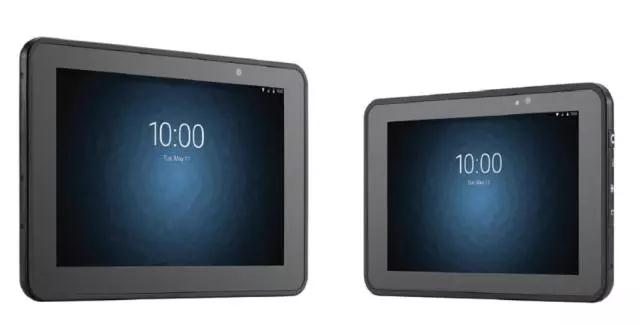 Choose a suitable operating system for the environment-Android 6.0
The pre-installed Mobility Extensions (MX) can transform Android into an enterprise-level operating system. Mx reduces IT support time for Android users, and improves the productivity of staff and the normal use of equipment.
Successfully collect data at one time
Add an optional advanced imaging engine at any time to capture one-dimensional or two-dimensional barcodes faster-whether the barcode is displayed on the screen or on the paper, or the barcode is damaged or scratched. The 8-megapixel rear camera is designed for occasional image capture, and the 2-megapixel front camera is a better choice for video calls.
Highly customized rear extension unit
Add the optional battery to assist the ET50's built-in battery to maintain sufficient power, and it can be replaced without shutting down, ensuring continuous operation during working days. Not only that, the design leather case and rotating hand strap allow the staff to easily switch between the "wearable" options, making work more flexible.
Complete comprehensive accessory series
The ET50 can be charged through the USB charging connector, the connectable four-slot optional battery charger, and ShareCradle. At the same time, ShareCradle also supports charging other Zebra mobile devices to reduce accessory costs.
Zebra provides two additional enterprise-level scanning options. Pocket wireless scanners and ring scanners provide more scanning possibilities. Adding a durable protective frame doubles the drop specification of ET50. The impact rose to 1.8 meters.