Zebra Printer Setup Utility for WINDOWS
The free Windows PC-based Zebra Setup Utility helps you configure designated Zebra industrial, mobile, and desktop printers quickly and easily, enhancing your out-of-the-box printer experience. The program wizard guides you through the entire steps of the printer design utility, whether you are adding a new printer, moving an existing printer to a new location, or adding new functions.
Zebra Setup Utilities for Windows
Version 1.1.9.1269 (released 28-Nov-2018) – this application includes the latest ZDesigner certified driver and is recommended for driver installation and printer configuration.
This software has been approved for the following devices:
105SL Industrial Printers
105SLPlus Industrial Printers
110PAX Print Engines (disc.)
110Xi4 Industrial Printer
110XiIIIPlus
140Xi4
140XiIIIPlus
170PAX4
170Xi4 Industrial Printer
170XiIIIPlus
220Xi4 Industrial Printer
220XiIIIPlus
EZ320 Mobile Printers
GC420d Desktop Printer
GC420t Desktop Printer
GK420d Desktop Printer
GK420e
GK420t Desktop Printer
GK888d
GK888t
GT800 Desktop Printer
GX420Rx Desktop Printer
GX420d Desktop Printer
GX420t Desktop Printer
GX430t Desktop Printer
HC100 Wristband Printer
LP 2824
LP 2824 Plus Desktop Printer
LP 2844-Z
QLn220 Healthcare
QLn220 Mobile Printer
QLn320 Healthcare
QLn320 Mobile Printer
QLn420 Mobile Printer
R110PAX4
R110Xi HF
R170Xi
R2844-Z
RP4T RFID Printers
RZ400
RZ600
S4M
TLP 2824
TLP 2824Plus Desktop Printer
TLP 2844
TLP 2844-Z
TLP 3842
TLP 3844-Z
ZD410D
ZD420 Series
ZD420-HC
ZD420C
ZD420D
ZD420D-HC
ZD420T
ZD420T-HC
ZD500 Desktop Printer
ZD500R RFID Printers
ZD510-HC Wristband Printer
ZD620 Series
ZD620D
ZD620D-HC
ZD620T
ZD620T-HC
ZE500 Print Engines
ZM400
ZM600
ZQ120
ZQ220
ZQ300 Series
ZQ310
ZQ320
ZQ510 Mobile Printer
ZQ520 Mobile Printer
ZQ610
ZQ610-HC
ZQ620
ZQ620-HC
ZR128 Mobile Printers
ZR138
ZR328 Mobile Printers
ZR338 Mobile Printers
ZT210 Industrial Printer
ZT220 Industrial Printer
ZT230 Industrial Printer
ZT410 RFID Industrial Printer
ZT420 RFID Industrial Printer
ZT510 Industrial Printer
ZT610 Industrial Printer
ZT610 RFID Industrial Printer
ZT620 Industrial Printer
ZT620 RFID Industrial Printer
iMZ220 Mobile Printer
iMZ320 Mobile Printer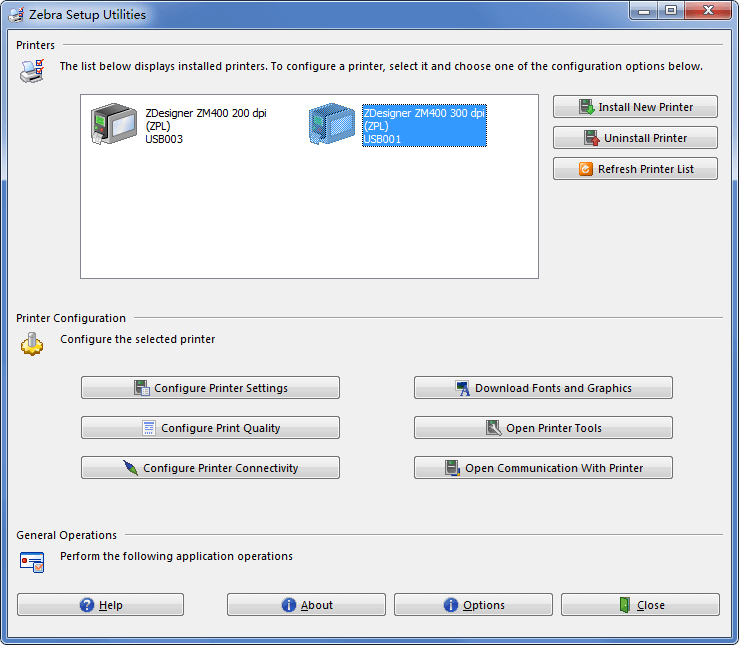 ANDROID version printer setup utility
The free Android-based printer setup utility enables easy Link-OS mobile configuration without the need for professional knowledge:
Use the "Tap and Pair" function to connect to the printer via Bluetooth.
Use the integrated Dropbox or Box function of the app to update the printer with your cloud files
Note: Tap/Pair and mobile USB functions can only be used on Android devices that support NFC (Tap/Pair) and USB OTG.
Please visit the Google Play Store to download the Zebra Printer Setup Utility for Android.