Adding multiple colors to labels is a step many small and medium businesses want to take. This unique customization is possible through the use of inkjet label printers.
These printers print high-quality images and text, increasing the value of labels in more industries and markets.
However, depending on the manufacturer, model, and features, the price of these printers can climb from a few thousand dollars to hundreds of thousands of dollars.
Let's take a look at information about inkjet label printers to see if we need to buy one.
What is an inkjet label printer?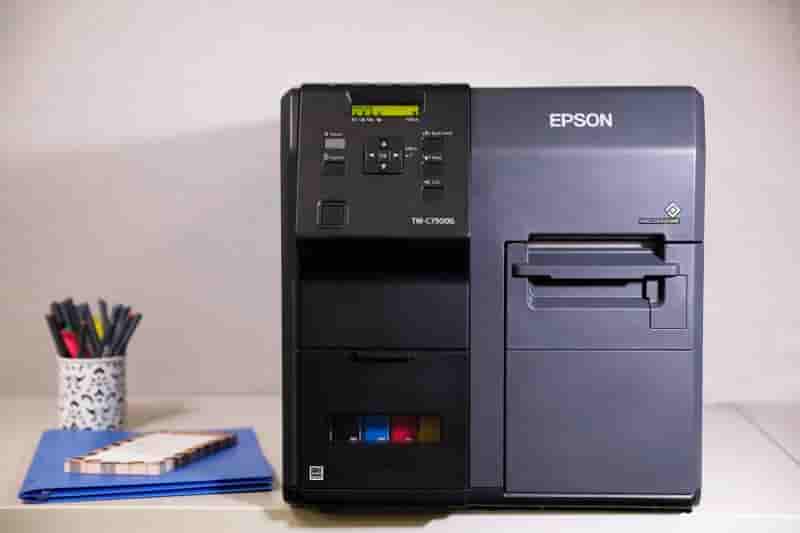 Inkjet printers are printers that use liquid ink. The process works by spraying tiny droplets of ink onto paper or other substrates such as paper, self-adhesive labels, plastics, and nonwovens during the printing process.
These droplets are designed to dry quickly to form the image. This drying process is assisted by a special coating that has been applied to the substrate in use. Images can even be waterproof, or resistant to harsh chemicals, depending on the combination of ink and coating material used.
In terms of price, inkjet label printers vary by model and feature, such as print speed, volume, and the type of material that can be printed. They start at around 5,000 yuan and go up to 100,000 yuan or more.
Example of inkjet label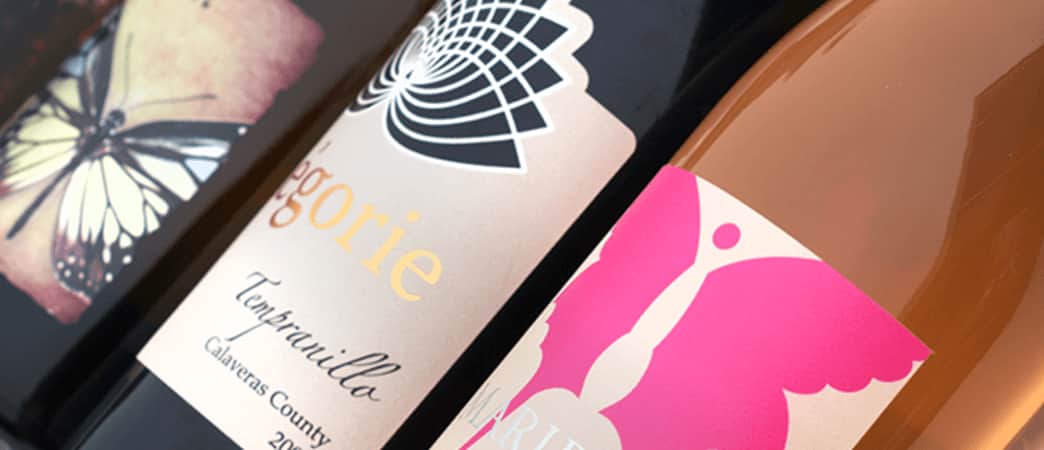 When you think of inkjet labels, what do you think of?
Amazingly, because of their versatility and durability, these color labels can be found almost everywhere.
You can find them in supermarkets for everything from condiments to beer and wine, and at farmers markets for things like local honey and handmade candles.
These labels are also found in factories with toxic and flammable products (such as oil drums and oil drums) and in laboratories handling hazardous chemicals, providing health warnings and safety instructions for workers and personnel.
You can even find smaller inkjet labels, such as labels for medicine bottles, in hospitals and pharmacies.
Features of inkjet printers
Inkjet printers can be found in home and office environments as well as in small and medium businesses. But what's the difference between a thousand yuan printer for personal use and a thousand yuan printer found in a business or warehouse?
Generally speaking, this is the media type.
Home and office inkjet printers print on a single sheet of paper. This can be matte, glossy, or photo paper quality, all of which are less expensive than label paper. While these printers are capable of printing labels, they must be single-sheet, such as A4 paper.
Label-specific inkjet printers are capable of printing from continuous label feeds such as roll-to-roll or fan-fold.
This media type generates more labels so it doesn't have to be restocked as often. This also means that labels can be printed on demand rather than all at once.
Unlike regular desktop printers, label-specific inkjet printers can also accommodate synthetic materials such as synthetic paper, polypropylene, and polyester.
These labels can be printed with special coatings already applied to the substrate.
The comparison of the inks used in the two printers is also a factor.
Home and office printers use dye-based inks, while label-specific printers use pigment-based inks. The vibrancy and color are relatively the same between the two, but there are a few differences:
Desktop Epson Printer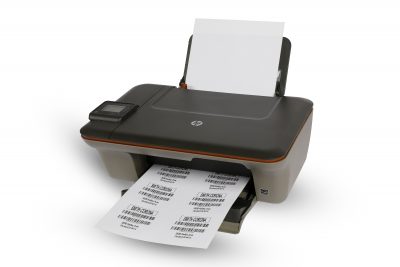 Dye-based ink
Colorants dissolve in liquids like water
The ink is absorbed by the fibers of the printed material
cheaper
More likely to get dirty
Unless the label has a special coating, the ink may come off with water
Print fades out faster
Epson Printer for Labels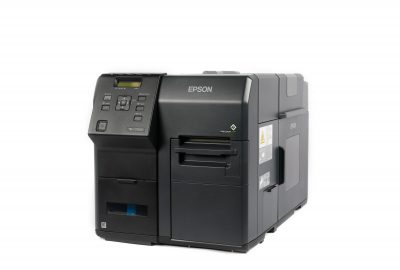 Pigment-based ink
Colorants are made from solid particles of pigment powder suspended in a liquid
Put on paper and blend with the fibers of the print material
More expensive
More durable
Better resistance to water contact
Handles better in the sun
inkjet printer ink
Inkjet printers usually come in 4 colors: cyan, magenta, yellow and black. This is often referred to simply as CMYK. When these colors are mixed together, a technique called four-color processing, which allows users to obtain about 55% of the pantone spot color.
Some premium home and professional printers for graphics and photo applications may contain 7 or more colors. Future 7-color inkjet label printers will be relatively capable of a wider color gamut range and a potential 90% Pantone spot color.
Some newer label-specific laser printers come in 5 colors: CMYK white. While some may argue that white ink doesn't make a difference to printing, it is very beneficial, allowing text and images to be printed on clear and dark backgrounds.
Ink Tanks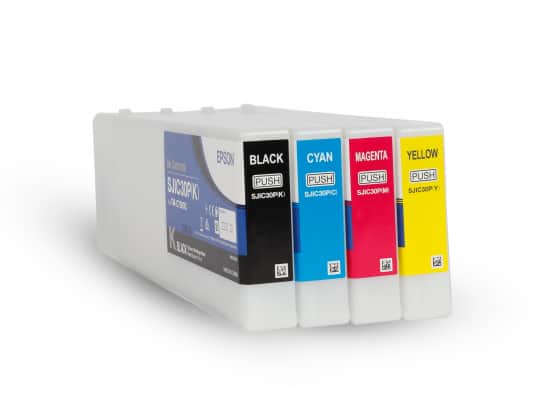 The colorful images and designs produced by inkjet printers elevate normally printed monochrome labels. They improve the printed information, often highlighting key sections and text.
To do this, they need color ink cartridges. These color inks must be purchased separately, which does add to the overall cost of an inkjet printer.
However, each color can be purchased as needed after the initial purchase requires loading the printer.
Desktop inkjet printers in the home and office use smaller ink cartridges than label-specific printers, which means fewer print jobs before ink cartridges need to be restocked.
Inkjet label printers use larger cartridges, allowing ink to last longer and require less restocking.
Inkjet Labels and Coated Substrates
With the ability to use multiple colors, the type of coating used on the label determines how the text or image will print. The chemicals in pigment inks sit on the substrate and fuse with the material. With the proper coating, users can print anything.
We manufacture everything for inkjet specialty labels and in-house, meaning we coat, laminate, and convert materials from start to finish. The paint will be applied to anything from paper to plastic to metallized films and synthetics.
What is a picoliter?
In previous printer review articles, we discussed DPI, or dots per inch. This is used to measure the resolution of an image or text when printed, a higher DPI usually creates better resolution.
An integral part of inkjet printer DPI is the use of pico-zeolites.
picoliter refers to the size of the ink dot. This unit of measure is one trillionth of a liter – too small to be seen by the human eye! The smaller the picozeolite measurement, the more control the printer has over the print details. This coupled with the high DPI number results in a more detailed and sharper image.
Who is buying inkjet label printers?
While the advantages offered by inkjet labels make them beneficial to many industries, they are most commonly found in commercial, manufacturing and industrial settings.
For small businesses opting for custom products, colored labels are eye-catching and can get the product noticed and further sold.
This facilitates the sale of retail items such as candles and cosmetics to specialty markets such as craft beer and local specialty products.
Healthcare facilities, such as hospitals and pharmacies, can use color to visually distinguish warnings and key instructions on items such as medications and wristbands, helping to reduce risk and draw attention to important information.
Warehouses can minimize errors by organizing their products for easy picking and distribution. With inkjet labels, images can be printed and used to differentiate product variations, such as style and color.
One ​​of the biggest markets to benefit from inkjet labels is the industrial sector.
Industrial companies require products to be properly labelled in accordance with GHS specifications.
GHS stands for Globally Harmonized System of Classification and Labeling of Chemicals. As its name suggests, this is an internationally recognized standard that defines and classifies hazardous chemicals and conveys this important information on labels and safety data sheets through symbols and colors.
These labels are government-mandated and require separate colors and symbols that vary by product. Therefore, a color printer is absolutely necessary.
How to apply inkjet labels?
A key feature of inkjet printers is the ability to print labels on demand.
This means that users can print as many labels as they want.
While some brands, such as Primera, offer label headers with designs ranging from cylindrical to tapered to rectangular, in most cases these labels are applied by hand.
Inkjet Label Printer Brand
Primera Technology
Epson
Quicklabel
TSC Technology
Advantages of using inkjet labels
Print Quality
Inkjet label printers provide higher quality print levels. They are capable of printing very fine details, color variations and large text sizes. This high quality level is perfect for images such as barcodes, making them easy to scan, no matter the size.
Resolution
Inkjet printers typically have much higher image resolution than other printers due to the smaller size of the ink they use when printing. This is one of the main features that makes an inkjet printer a valuable printer.
Customization and Marketing
Product customization and variation allows customers to personalize their commercial designs, which helps their products stand out from other market offerings. Users can also print on demand, as pre-printed custom labels are not required. Because inkjet label printers can customize SKUs especially for individual customers, merchants can label products and promotions on labels as a means of expanding their marketing.
Versatile
Labels can be printed individually to accommodate stock changes and changes in images, codes, branding and logos. Color simplifies product identification and can be produced for each individual item, improving picking accuracy and reducing error costs.
Durability
Labels made on synthetic materials withstand environmental conditions and harsh chemicals without smudging or fading. This includes UV, water and oil resistance.
Cost-effective
Companies with inkjet printers capable of printing labels on demand only need the right number of labels. They also eliminate the need for pre-printed labels in the retail and food and beverage industries, where new products often appear.
Summary
Inkjet printers add colorful elements to labels, simplify product identification, enhance company branding, and highlight essential information
While this can be a significant investment, purchasing an inkjet label printer is a must for businesses looking to expand the way they identify products.