In the early morning of June 26, 1974, a man named Clyde Dawson stopped at a marsh supermarket in Troy, Ohio, and bought 10 packs of Wrigley's Juicy Fruit Gum. The cashier only needs to scan the barcode (the first barcode) instead of manually recording the transaction.
Since its introduction in the early 1970s, barcodes have become popular, becoming the industry standard for cutting costs, saving time, and accurately recording and storing information.
Enterprises rely on data to drive key insights and decisions in operations. Because the company relies heavily on this information, it must be reliable. Automating data collection and eliminating human error is the key to ensuring data accuracy, and barcodes are a reliable and reliable tool for obtaining this information.
From retail stores to hospitals, the system has entered thousands of industries and applications. Just swipe the scanner to unlock all this information.
The importance of barcodes and labels
Scanning barcodes is fast, reliable, and greatly reduces human error. It is a cheap and affordable mechanism for tracking products, equipment and people. They can be printed or printed in multiple variations on multiple materials.
But all this can be said: Bar codes are only as reliable as the application items printed on them.
Incorrect labeling (such as smeared ink) will make the barcode unusable. This is why it is extremely important to choose the correct label for each application and environment.
There are many factors to consider when determining which label is best for your business.
Let us find out everything you need to know about barcodes and shipping labels.
Chapter 1: Basic Knowledge
The first and simplest question answered is: What will your barcode track? Although paper labels are the most popular and cost-effective, they are not necessarily the best choice in every situation.
The following are the most popular media types:
labels
labels are the most popular and cost-effective media for barcodes. This is mainly because they are easy to design, print and connect. The anatomical structure of the label is composed of face material, adhesive and backing paper.
The operation is very simple, just print your barcode on paper. Label adhesives are sticky materials that bond the label to its application. Finally, the backing paper is the material that protects the adhesive before it is applied. In other words, it is the material (usually wax or polyester) to which the label is attached before use.
Label paper is packaged in roll, sheet or folded form, which can be used for inventory tracking, transportation and loading and unloading, cross docking, warehouse management system, etc…
Hang label
Hanglabels are another popular barcode media. They are usually thicker than labels and do not have any adhesive. Due to the lack of adhesive, hang labels are usually pasted with plastic cords or staples. Hanglabels are very suitable for media that does not have smooth surfaces that need to be pasted without paper labels.
The most common application of barcode label is in the clothing industry. Suppliers selling clothing do not want to leave sticky residue on the clothing they sell.
Wristband
Wristbands are the least commonly used medium for barcodes, but they are still very important. Their needs are very professional, which makes them a more niche market.
In most cases, wristbands are used to track animals or people. In these cases, they are preferred because they are much less likely to fall off than label paper or hang labels.
Thermal printing
You can use many different printing techniques to print barcodes. However, by far, the most common method is thermal printing.
"Why?" Because the reason for this is simple: thermal printing is simpler, faster and more efficient.
There are two types of thermal printing: direct thermal and thermal transfer. Although most thermal printers can perform thermal transfer and direct thermal printing at the same time, the advanlabeles and disadvanlabeles of each medium are important to your choice.
Thermal transfer
The thermal transfer (TT) technology uses thermal ribbon. When the ribbon passes through the thermal print head, the ribbon melts onto the label to display images or text. The ribbon used for the label will depend on your media type, printer and application items.
These thermal transfer labels are more durable than similar labels (direct thermal labels), so they are less likely to scratch or fade and have a longer lifespan.
If your company requires long-term storage, or your labels may be exposed to direct sunlight, then thermal transfer labels are perfect for you.
Direct thermal sensitivity
Direct thermal (DT) can print without any ink or ribbon. Instead, there is a thermal layer on the paper that changes color when it is exposed to the print head of the printer. When the paper passes through, the print head heats up and cools quickly.
Thermal label is very Suitable for temporary use, such as shipping labels, carton packaging that will be thrown away, and high turnover rate Inventory.
The label only needs to withstand a few weeks of use, and no ribbon is needed. Direct thermal printers can produce high-quality, easy-to-scan labels without incurring the extra cost of the ribbon required.
Operating without using ribbon or ink sounds like a good choice, but thermal printing has some drawbacks…
Because the structure of the paper is thermally sensitive, it should not be exposed to high temperature or sunlight for a long time, otherwise the label may be damaged or faded.
Therefore, the service life of thermal labels is not as good as thermal transfer.
Chapter 2: Why use barcodes?
So what's the point of using barcodes? They make inventory management very easy! Bar codes can be used for a variety of purposes to help increase the efficiency of your company. Here are a few ways they can help you:
Each character in the barcode is represented as a combination of wide black and narrow black-
This is the obvious part we already know. These seemingly simple bar graphs can hold thousands of pieces of information, which can be decoded once scanned on a computer. What you may not have noticed is that there are actually many different types of barcodes. The differences are so subtle that they can easily be missed. The changes are as follows:
Inventory tracking and management
Transportation and transportation
Product identification
Lot number
Only numeric barcodes
This type of barcode includes universal product codes (UPC), which are usually used in retail applications, but can also be used in Used in blood banks, even in some old libraries. These are very convenient because they usually provide self-checking and error correction functions.
Alphanumeric barcode
This is a universal barcode label with a wide range of uses, but it is specifically used for tracking and data collection in transportation. Because they have the ability to reduce errors to save a large amount of information, they tend to be used in the healthcare industry.
Industry standard barcode
Many industries have barcode systems specific to their jobs.
One-dimensional (1D) barcode type
UPC code-used to mark and scan consumer products at points of sale worldwide (but mainly in the United States). The first and most common variant is UPC-A, which encodes 12 numbers. At the same time, the smaller variant UPC-E only encodes 6 digits.
EAN code–similar to UPC, but mainly used in Europe. They are used in geographic applications. EAN-13 has 13 digits and is the default format. On the other hand, EAN-8 can only use barcodes on products with limited space, such as small candies.
Code 39 – You may also see these codes involving code 3 of 9. They are used in many industries, especially the automotive industry and the U.S. Department of Defense. The reason this is different is that it uses both numbers and characters. The name stems from the fact that it can only encode 39 characters (even if it has not been upgraded to 43 characters).
Code 128 -This code is similar to Code 39, but more compact. These high-density codes are used for ordering and distribution in the logistics and transportation industries, not POS. Code 128 barcodes are useful in supply chain applications because they can store a variety of information and support any character in the ASCII 128 character set.
ITF – AKA Interleaved 2 of 5. These labels are used to mark packaging materials all over the world. They can meet high printing requirements, especially when printing on corrugated cardboard. The ITF barcode encodes 14 numbers and uses the complete ASCII set.
Code 3 of 9 – These barcodes are used in logistics to identify packages in retail inventory, mark electronic components, and provide supplemental delivery information for Canada Post. It is similar to the Code 39 barcode because it has full ASCII support, but it is an improved version. The barcode itself can improve security, and its compact size makes it shorter.
Codabar-Logistics and healthcare professionals (such as American Blood Bank, FedEx, photo studios and libraries) use this tool. It is very easy to print, and can be produced with any impact printer (including those typewriters that still have one of them). No computer needed! Codabar barcodes are discrete, self-checkable, and can encode up to 16 different characters and another 4 start/stop characters.
GS1 Databar -Also known as the reduced space symbology, this standard barcode type is used for retail coupons in the United States. They are used to identify consumer coupons, products, perishables, and even certain items in the healthcare industry.
MSI Plessy – You can find these barcode labels on supermarket shelves. They are used for inventory management in retail environments.
Two-dimensional (2D) barcode type
QR Code – This is a consumer-centric barcode. These barcodes are used for tracking and marketing purposes, such as advertising, magazines and business cards. Not only are they free to use, they are also flexible in size, have high fault tolerance and are fast readability. Their only disadvanlabele is that the laser scanner cannot read them. The four data modes supported by the QR code are numbers, alphanumeric, byte/binary and Chinese characters.
Datamatrix code – usually marks smaller items, commodities and documents. They are also ideal for marking small electronic components.
PDF 417 – As you know, PDF417 is great for storing photos, fingerprints, signatures, text , Numbers, graphics and other content that needs to store large amounts of data. The so-called "large" refers to 1.1 kilobytes of machine readableaccording to.
Aztek – If you are in the transportation industry, this barcode is for you. They are used for air tickets and airplane boarding passes. These labels are so powerful that they can be decoded even if their resolution is poor, making them very useful for poor ticket quality or for display on the phone. This makes the boarding process at the airport faster and smoother.
Summary
If you need to decide which format to use, please ask yourself the following questions:
Do you want to scan products at the point of sale in a retail store? What you need is: UPC or EAN
What kind of characters need to be supported? letter and number? What you need is: CODE39, CODE128 or QR CODE
Is there less free space on the packaging? What you need is: EAN8, UPC-E, CODE128 or DATAMATRIX
Which material will you use to print barcodes? cardboard? What you need is: ITF
Do you need to store a lot of data on the barcode? What you need is: PDF417
Chapter 3: Let us talk about you and your specific needs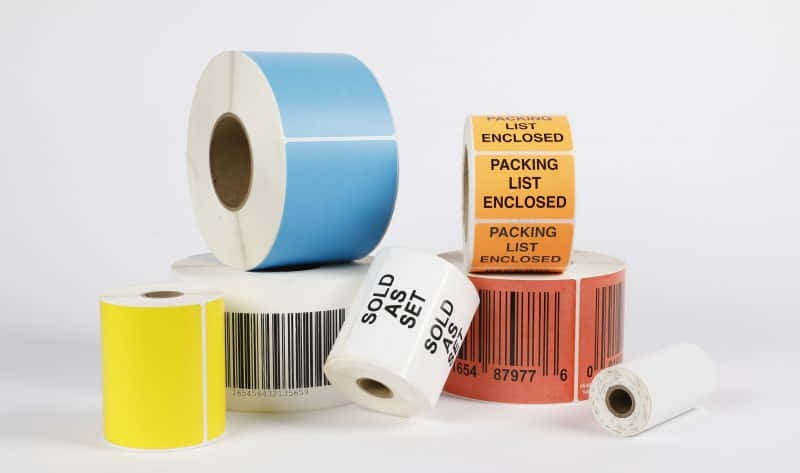 When it comes to the type of label you need, first before buying It is important to ask yourself a few questions. These will help narrow the choices and determine which label type will be the best overall choice for your application. It will also help you find the most suitable device for your labeling needs.
How long do you need to use your barcode/label?
Less than 6 months – As mentioned earlier, direct thermal labels are more sensitive to heat and therefore have a short lifespan.
6 months or more – heat transfer is a solid foundation for these two options. If you plan to store labels for more than 6 months, you should choose thermal transfer printing.
In what environment will the label be used?
Indoors-choose direct heating! Thermal labels can only last about 1 month outdoors when exposed to light, and then begin to fade. The heat sensitivity of these labels sets a time limit on the life of the labels.
Indoor or outdoor-Thermal transfer labels are more suitable for outdoor use than direct thermal labels. However, if you are using a paper label, its useful life will not be very long. In addition, if you are using polypropylene labels, it will be more suitable for handling elements.
What kind of printer do I need?
First, you will need a thermal label printer. Inkjet printers and laser printers are not fast, efficient or cost-effective in printing barcodes and shipping labels. There are 3 types of thermal label printers: industrial, desktop and mobile. Many famous thermal printer brands such as Zebra, SNBC, Postek, Gainscha, Datamax-O'neil, Sato, Intermec, Printronix, Dymo, etc. are good choices.
Industrial printer
These printers can print 3,000 to 10,000 labels per day. They are designed to withstand high-volume printing, which is why they are usually kept in warehouses and manufacturing environments where high-quality and high-quality printing must be performed.
Desktop printer
If you plan to print about 500-1000 labels per day, this is the printer you want to use. They are about the size of a toaster and are commonly used in retail applications, asset tracking, and small-scale label operations that require smaller print volumes.
They are not as compact as mobile printers, but they are small enough to fit on any desk. Although they are smaller than industrial printers, they print with the same quality and speed.
Mobile printer
Mobile printers are an ideal solution for low-volume printing on the go. They are ultra-small printers that can be locked on a belt, so you can create high-quality labels in any environment, indoors or outdoors.
Chapter 4: Choose the right label for you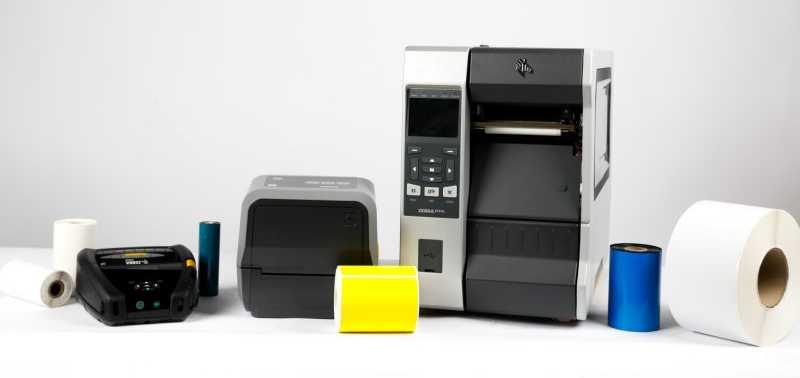 For most people, disposable paper labels can normal work. However, in certain applications and environments, it is necessary to use a more durable and weather-resistant material. For details on the three most popular label materials, see below.
Paper label
The vast majority of people who print barcodes and labels use paper labels. The reason is simple, they are much cheaper than similar products of the same quality. Since most labels are disposable in nature, paper is almost always an effective method.
Benefits
Disadvanlabeles
End
Application areas

The cheapest option
Easy to use
Suitable for daily and ordinary applications

Almost everything
But does not include outdoor use or chemical exposure
Polypropylene
For those individuals looking for durable labels, polypropylene is a good choice. Just like paper, there are direct thermal transfer and thermal transfer polypropylene labels. However, one thing to note about direct thermal polypropylene labels is that they are gray in nature. This is because there is no leuco dye in the label.
Benefits
Disadvanlabeles
End
Application areas

Durable
Anti-tearing and anti-fouling
Long printing life
Environmentally friendly
Resistant to moisture, oil, grease and chemicals

Much more expensive
Need wax/resin ribbon

Medical and chemical laboratory
Trash can label
Important documents
Color labels
Most labels are blank/white, but multiple colors can be used. When a label or label is colored, it is called a "surface coating". This simply means that the entire surface is colored, without any edges or borders. They are great for color coding inventory by time, batch number or product type.
The normal colors are yellow, light green, light blue and orange. If you use these labels for barcode encoding, it is best to choose a lighter color to help improve readability and scannability.
Adhesive
When choosing a label, make sure to choose an adhesive that can withstand the task of the label. You need to answer 3 questions to solve this problem:
How long does your label need to stay adhered to the surface?
Permanent adhesive does sound like…permanent. Once applied, they will be difficult to remove. This is ideal for inventory labeling or shipping and handling. You don't have to worry about the loss of shipment due to the label falling off. The second type of adhesive is removable. These labels can be removed without being damaged or leaving residue on the surface. When you want to update what is written on the label, the removable sticky label is easy to reposition and is useful.
What is the texture of the surface on which the label will be stuck?
labels tend to stick to clean, smooth surfaces more effectively. Rough and uneven surfaces require stronger adhesives to bond. In addition, will your surface be wet? Still cold? These types of applications require extremely strong adhesives and may also require polypropylene or polyester facestocks. Ordinary paper labels with standard full-temperature adhesives will not be adequate.
At what temperature will your label be used?
The performance of each adhesive depends on the environment. Adhesives that perform well in freezers may exhibit terrible effects at warm temperatures, and vice versa. If you know that you need frozen labels, please consult this frozen label buying guide to learn how to choose the right label for your company. Once you have the refrigerator label, be sure to read this article to learn all about applying the label correctly and making the label stick to the ice.
Rubber adhesive
This is a synthetic polymer and the cheaper option of the two. Compared with acrylic adhesives, it has a higher initial tack quality, but is more susceptible to moisture and high temperatures, which may cause it to wear over time.
Exposure to chemicals or solvents may also cause the rubber to crack. If you tend to keep the label on a plastic surface indoors at room temperature, then this is your adhesive.
Acrylic adhesive
labels made with acrylic adhesives work well on a variety of surfaces from wood and metal to glass and other outdoor objects. It is resilient to moisture and can withstand drastic temperature changes and seasonal factors such as ultraviolet rays and freezing conditions.
It takes about 24 hours to fully adhere to its surface, but it has the lasting power to maintain its adhesion for many years.
This is a strong adhesive-however, it is much more expensive than rubber adhesives.
Core size
The two most common core sizes are 1 inch (25mm) diameter and 3 inch (76mm) diameter. You may also see 30mm and 40mm diameter cores.
The reason for the different core sizes depends entirely on the type of printer they use. Larger printers use larger paper rolls.
Labels with a core diameter of 3 inches (76mm) are used in industrial printers. These printers are larger (approximately the size of a microwave oven), so they can accommodate paper rolls with larger core diameters.
Desktop printers use labels with a core diameter of 1 inch (25mm). These are about the size of a toaster-much more compact than an industrial printer. The label on the 3-inch (76mm) core cannot fit into this small printer at all.
Label size
When deciding which label to buy, it's important to know the number of surfaces to put on the label. You cannot buy a label that is larger than the surface on which it is attached. The label is always identified by measurement. The first dimension is the width of the label, and the second dimension is the length. For example, a 4×6 label will measure 4 inches wide by 6 inches long. The width of the label is always the perforated edge of the label. If the label is not perforated, the edge of the label comes out of the printer first.
Perforation and application
The label will be punched or not punched. "Perforation" means "perforation". Perforated labels punch a row of small holes in the lining between each label so that the labels can be easily removed. ifYou are trying to determine whether you need perforated labels. Ask yourself: "Do these labels need to be applied automatically or manually?"
If you answered: "Auto apply", then the label you want is not punched.
When you leave the automatically applied machine in an unattended place, you want all operations to proceed smoothly. With perforated labels, you risk that the perforated material will tear and cause production to stop. In the automatic pasting process, the bottom paper roll after removing the label can collect waste cleanly. Therefore, if the spool separates, the entire process will be broken and the liner will no longer be able to spool. The most important thing is that if there is no spool to pull the backing paper through the machine, the automatic sticking will no longer be able to stick any labels! The best way to avoid this confusion is to simply order labels for the machines that apply automatically, without scrambling. The outer diameters of these rollers are also larger because they are not limited to the housing of the printer.
If you answer: "hands", then you need a perforated label. This allows the user to get rid of excess lining to make the application process cleaner and more convenient. These non-porous labels use two methods, direct thermal transfer and thermal transfer.
Finished product label packaging format
labels can be rolled, single and folded… They all have their own uses. Therefore, many different industries use labels for various purposes. This is not a "one size fits all" deal. The following information will help you distinguish which format you should choose.
Reel label
The roll label rotates around a cardboard or plastic spool and can only be printed on a thermal label printer (or more commonly an inkjet roll printer). As mentioned earlier, depending on the printer, they use 1″, 3″, and sometimes even 3/4″ cores. In order to print, the machine feeds the blank label from one end, and the last printed label is from the other end at a time. Come out.
This is the fastest and easiest solution for printing shipping labels, barcodes and name labels, where each label is uniquely printed. In addition, because thermal transfer technology can be used to print the roll, its service life is longer than that of paper labels. If you have a high demand for labels, you can use roll labels to print up to 500 sheets per day.
One of the pitfalls of reels is that unless you have a winder to collect the labels neatly, they will be printed in a mess. That's where the folding is convenient.
Folding labels
Foldable labels have certain properties and can be neatly folded into a compact stack. This can save a lot of time! Many warehouses have people who fold up the labels when printing them. This is a waste of labor, which can be used elsewhere.
This also makes them easy to store, handle and transport. Unlike the reel, no coiler or unwinder is required. One of the disadvanlabeles is that they must be fed into the printer from outside the printer. However, as long as there is about a foot of space next to your printer, you can start using it.
A4 paper label
A4 paper labels are laid out in the traditional 21*29.7cm paper size. You can use inkjet printers or laser printers (such as your printer at home or at work) to print. If you want to print a stack of the same but smaller labels (such as return address labels), you should use worksheet labels.
Chapter 5: Heat transfer? How to choose ribbon?

For thermal transfer printing, thermal transfer ribbon is required. If you think back to the past, thermal transfer technology uses thermal ribbon. When the ribbon passes through the thermal print head, the ribbon melts onto the label to present an image or text on the label.
Choosing the right material for the thermal transfer ribbon will ensure that your label meets the quality and durability required for the job at hand. The three basic ribbon materials are wax, wax/resin and resin.
Wax base
This is the most common type of thermal transfer ribbon. Because of their low durability, they are often used with coated and uncoated pulps. They are cheap and suitable for transportation, shelving, bins, retail and warehouse labels.
Wax/resin (mixed base)
This is a mixture of wax and resin-based ribbon. They can create clear, clear images on various material types and are ideal for standard and weatherproof labels. The price is slightly higher than the standard wax tape, but the wax-resin tape is worth mentioning that it has heavy handling, moisture resistance and temperature change resistance.
All resin
This is the most expensive but most durable type of ribbon. They are usually used with synthetic face materials and are ideal for labeling very sensitive medical applications and chemicals, textile or clothing labels, automotive labels, and flexible packaging.
Thermal printer compatibility
Each printer model has its own function, so it also has its own compatible ribbon production line. The ribbon (ribbon) is divided into two categories: coating side-out and coating side-in.
This refers to whether the ink is coated on the inside or outside of the ribbon, which will affect the way the ink is wound and conveyed. Some printers require one or the other.
Not sure how to tell? This is a hint! Stick a piece of tape on the outside of the ribbon roll. Is the ink sticking to the tape? That is a CSO functional area. If it is not sticky, it is the CSI ribbon.
The picture shows the thermal ribbon being wound from the front side up and the inner side to the outside
Coating Side Out (CSO)
The ribbon is entangled, which means that the ink coating on the ribbon faces outward. To use it with the printer, unfold from the bottom and feed the paper underneath. These ribbons are compatible with Zebra.
Coating Side Entry (CSI)
The ribbon is entangled, which means the ink coating on the ribbon is facing inward. To use with your printer, unfold and feed from the top. These ribbons are compatible with Datamax and Sato printers.
Carbon ribbon size
It can be overwhelming to see all the different ribbon sizes for the first time, but knowing how to match the ribbon size to the label size can save you time and money.
Width-select the ribbon with the size closest to the width of the label. For example, if you usually use 4 x 6 labels, choose a 4.33 inch ribbon. Otherwise, all unused ink on the ribbon will be wasted. Also, make sure to use a ribbon size that is compatible with the printer.
Length – You can use the length of the label roll to determine the length of the ribbon (in feet). For example, Smith Corona's 4 x 6 label is 510 feet long. A 4.33 inch x 1182 inch ribbon will use about 2 rolls of labels. Doing math may seem tedious, but in the long run, it can prevent waste and save you money.
Core size-When the standard ribbon core is 1 inch, smaller printers require smaller ribbon rolls. Therefore, desktop printers use 0.5 in the core tape.
Well, there is it there.
You officially know everything about barcodes and shipping labels.
Now that you have all this information, it's time to start the purchase process!