MX240P series of industrial barcode label printers are tough, durable and powerful to achieve printing tasks
MX240P series of industrial barcode label printers have a solid and sturdy body design that can meet the large number of label printing needs of enterprises. Built-in high-speed processor greatly improves printing efficiency. It is especially suitable for manufacturing, logistics and transportation and product labeling. Related applications of printing.
The new MX240P high-end industrial barcode label printer can meet the needs of enterprise users for 24-hour continuous large-scale label printing. The aluminum alloy casting column printing mechanism module with a strong body has high durability and good stability.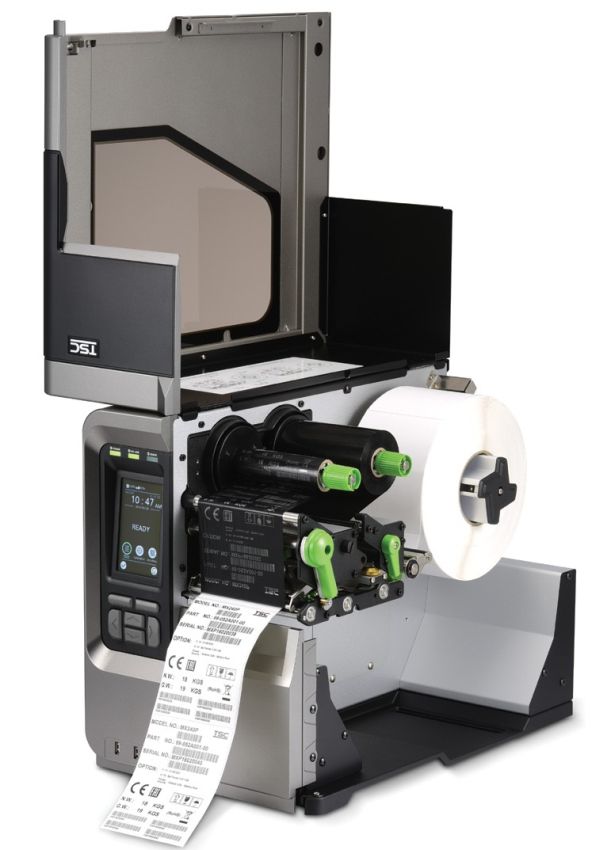 High resolution provides exquisite printing
MX240P series includes 203 dpi, MX240P with a maximum printing speed of 18 inches per second, 300 dpi MX340P with a maximum printing speed of 14 inches per second, and MX640P with 600 dpi are suitable for two-dimensional bar codes, icons, small characters or Graphic labels for other ultra-high resolution printing needs.
Complete equipment
The standard configuration of the MX240P series includes a brand-new color touch panel and six operation buttons, which are more convenient for humanized operation. The maximum length of the ribbon can reach 600 meters, and the maximum outer diameter of label consumables is 20.32 cm (8 inches). Long-term printing and reduce the frequency of manual replacement of consumables, built-in Ethernet interface, two USB host interface, USB 2.0 and serial port communication interface, and provide parallel port plus GPIO options.
Large storage space
MX240P series has built-in 512 MB FLASH and 512 MB SDRAM and a set of microSD card slots. The storage capacity can be expanded up to 32 GB, providing font, image storage environment and space.
Superb TSPL-EZ high-level printer language
The user-friendly TSPL-EZ high-level printer language is highly compatible and can support other brands (Eltron® and Zebra®) barcode machine programming languages. In addition to allowing you to write programs easily, it also provides multiple functions such as file management. The best software compatible environment, built-in vector fonts that can be resized.
The product features of MX240P
Thermal Smart Control print head controls the printing technology to provide clear and high-quality barcode printing
Aluminum alloy casting body
High-speed processor 536 Mhz
Up to 18 inches per second printing speed
4.3-inch color touch screen with new interface design and 6 panel operation buttons
203 DPI, 300 DPI and 600 DPI resolution
512 MB Flash and 512 MB SDRAM memory
The maximum length of the ribbon capacity can reach 600 meters
TSPL-EZ compatible program
USB host can be used with a keyboard or scanner to support stand-alone applications
Carbon ribbon, label capacity display
Automatic detection of print head replacement
ENERGY STAR® certification
Scope of application
Large number of label printing in the factory
Manufacturing mark
Product Specification Label
Inventory labeling management
Logistics label management
Asset label management
Electronic Jewelry Labels