Introducing CRM offers available today
Today's CRM market offers a significant number of solutions and software alternatives. Some fit larger enterprises (which typically require on-premise hosting) while others apply more to the needs of SME's (commonly utilizing a cloud-hosted solution).
When it comes to CRM solutions, providers must adapt their product to fit a constantly changing business landscape. For example, more and more CRM solutions are now becoming available for mobile. This is a crucial advantage for modern companies and brings versatility to their CRM usage. Being able to maintain your customer relationships directly from your phone or tablet changes the way you operate and manage your sales activities.
Customer expectations are changing regarding CRM functionalities and best practices. Modern businesses need more than just the ability to manage their contacts; a CRM has to offer other features such as efficient communication tools, emailing, phone or chat integration, being social, and most importantly, having a great user interface for your salespeople to be productive.
CRM Features Comparison
In order to offer a fair comparison of the top CRM solutions, we have compiled a table of the most important features a CRM should offer. These are organized into five categories: Customer Relationship Management, Sales, Marketing, Reporting, and Productivity & Usability.
These categories encompass nearly everything a company might need in order to manage and further develop its customer relationships and sales pipeline. In this comparison, we have also included a comprehensive list of the pricing conditions for each solution.
Introduction to CRM Software
Salesforce CRM
Founded in 1999 by a former Oracle Executive, Salesforce is the #1 selling CRM software and enterprise ecosystem. The Salesforce CRM platform, called Sales Cloud, is a SaaS offer which allows your sales teams multiple cloud-based solutions that will help them to locate leads and close more deals. There are 3 free major upgrades every year.
SELL SMARTER AND FASTER WITH THE WORLD'S #1 CRM.
The only free version of Salesforce is the "Devel-oper Edition" which is limited in terms of data and number of users. Salesforce also provides 10 donated subscriptions and deep discounts to Nonprofit Organizations and higher educa-tion institutions.
Salesforce business solutions include Sales Cloud,Service Cloud, Marketing Cloud, Community Cloud,Wave Analytics, App Cloud, and IoT Cloud. Four different pricing models and editions are available:
SalesforceIQ CRM Starter, Professional, Enterprise and Unlimited (all are billed monthly). For this comparison, we will select Salesforce Enterprise.
Zoho CRM
Founded in 1996, the company changed its name from AdventNet in 2009 and began focusing on SaaS services. Zoho is a business applications suite offering more than 30 apps to manage your company. Only available on the cloud, the apps are fully integrated and mobile friendly. This leader in cloud software focuses its budget mainly on R&D projects and insists on the fact that they remain private as no investors are involved.
THE OPERATING SYSTEM FOR BUSINESS
Zoho CRM exists in 4 versions: Standard, Profes-sional, Enterprise, and CRM Plus. For instances of less than 10 users, you can use Zoho CRM for free. For this comparison we chose to compare the Professional edition.
SugarCRM
SugarCRM is a web-based CRM application available in open source or in a commercial version. Its modern interface helps both employees and customers to better engage and also includes a mobile application.
Originally released as open source, SugarCRM no longer updates their community version since the release of version 7, but you can still find open source forks like vTiger.
CRM SOFTWARE TRUSTED BY MILLIONS WORLDWIDE
SugarCRM is divided into four editions: Commu-nity, Professional, Enterprise, and Ultimate. This solution is available online or on-premise, with the possibility of customization for both versions. For this comparison, we chose to include the Enter-prise edition of SugarCRM.
Pipedrive
New in the market, Pipedrive was founded in 2010. This solution is dedicated to managing leads and sales step-by-step. It was developed in conjunction with sales managers based on their direct sales experience.
CRM is their unique product and only one version is available.
GREAT FOR SMALL TEAMS.
Very visual, Pipedrive can be installed quickly (in as little as 2 minutes) with no specific knowledge required. The application is cloud-based and you can work from anywhere via their mobile app.
Odoo Online
Odoo is an open source software that is available in three editions, of which two are local and one is hosted in the cloud. More than 360 apps are available thanks to the multiple developments made by Odoo S.A. and its commu-nity. Some of these apps are officially validated by Odoo, whereas others are developed by the community and dedicated to specific versions for specific needs.
GROW YOUR BUSINESS
For this comparison we'll choose the application Odoo CRM in the cloud-hosted version, Odoo Online. The unique feature of this offer is that it's completely customizable. There are more than 30 apps that cover the vast majority of business cases. These apps are all connected to the same database on Odoo's servers, linking your compa-ny's sales pipeline to the rest of your business operations.
HubSpot CRM
Think CRM software is just about contact management? Think again. HubSpot CRM has free tools for everyone on your team, and it's 100% free. Here's how the free HubSpot CRM makes your job easier. With the easy-to-use HubSpot CRM, you'll never have to manually update reports or wonder how your team is tracking toward quota. Because you have more important things to do.
I love how simple, yet very efficient HubSpot CRM is. The ability to customize properties has been a huge benefit to both my sales team and our reporting.

LEAH LAWRENCE
ActiveCampaign CRM & Sales Automation
https://www.activecampaign.com/
A sales CRM with automation stops tasks from piling up on your desk. Automate lead prioritization and contact management so you have time to sell.
CRM stands for Customer Relationship Management. When you add sales and marketing automation to your CRM software, you can automate sales and always have the CRM tools you need to sell. These are some of the tools you can use to manage welcome emails and lead generation, automate task and lead assignment, schedule calls, and sell more.
ActiveCampaign's category-defining customer experience automation platform (CXA) helps over 130,000 businesses in 170 countries meaningfully engage with their customers. The platform gives businesses of all sizes access to 500+ pre-built automations that combine email marketing, marketing automation and CRM for powerful segmentation and personalization across social, email, messaging, chat and text. Over 75% of ActiveCampaign's customers use its 850+ integrations including Microsoft, Shopify, Square, Facebook, and Salesforce. Pricing starts at just $9/month.
ActiveCampaign was built on the idea that an excellent customer experience must go beyond the traditional marketing touchpoints, like email. Delivering a personalized, high-touch experience is easy in the very beginning, but as a business grows— adding channels, additional teams, locations, customer segments, etc.— the complexity of managing relationships is too much, and that personalized connection doesn't scale (this is why we've all received sales emails for products we already own, been asked to review a product we returned, or had disjointed experiences across success reps while trying to resolve a support ticket, etc.) This is why email marketing, marketing automation, service and support tools, and CRMs end up wasting time for organizations instead of supporting their growth.
Dynamics 365 Sales
https://dynamics.microsoft.com/en-us/sales/overview/
Microsoft Dynamics CRM is our customer relationship management (CRM) business solution that drives sales productivity and marketing effectiveness through social insights, business intelligence, and campaign management in the cloud, on-premises, or with a hybrid combination.
Customer relationship management (CRM) can help reduce costs and increase profitability by organizing and automating business processes that nurture customer satisfaction and loyalty in the sales, marketing, and customer service fields. CRM solutions can deliver ROI through marketing automation, customer service, and sales force automation. We also offer mobile CRM apps and platforms that enable you to manage your customer relationships on your mobile devices, along with tools that integrate data and reporting from social media directly into your CRM application.
With Microsoft Dynamics CRM, you get powerful CRM software delivered on cloud, hosted or on premises. Our CRM Online service providing instant-on anywhere access, predictable pay-as-you-go pricing, and a financially backed service level agreement (SLA).
SAP CRM
SAP Understand your customers and engage them with hyper-personalized experiences.
Choose SAP solutions that enable you to deliver personal, trusted, and connected customer experiences.
Nimble CRM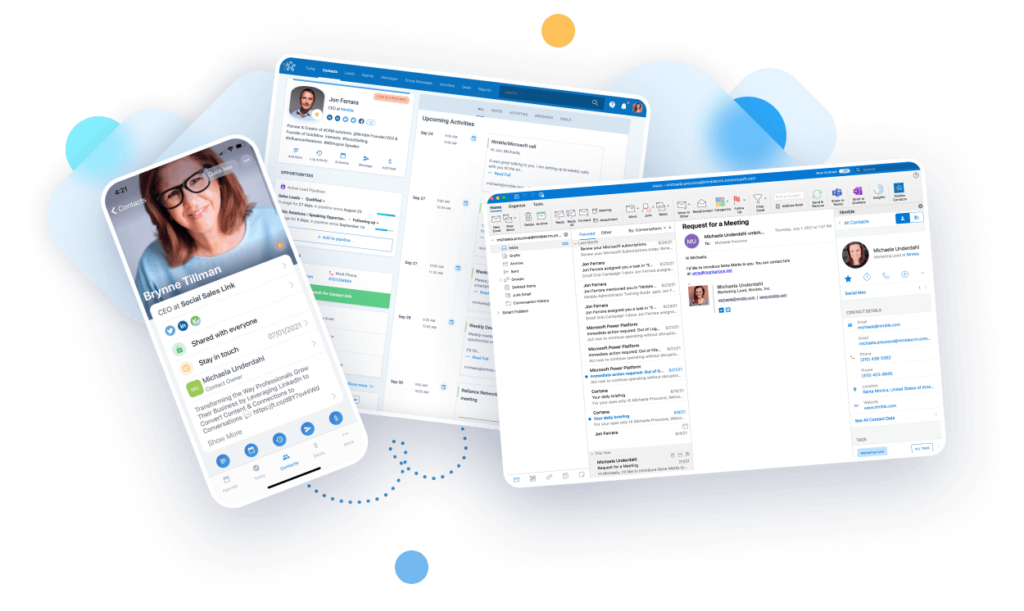 The CRM for more than just salespeople. A relationship-focused CRM for your entire team. Easy to use, works in your Outlook/Gmail inbox, social, web.
Nimble is the industry-leading CRM for Office 365 and G Suite that builds award-winning contact management solutions for teams and individuals. It does all the work by integrating with productivity apps such as inboxes and calendars, delivers a streamlined user experience, and was built to help business teams close more deals, faster. Nimble unites thousands of small to mid-sized business teams successfully nurture their personal and business relationships across email, social networks and more than 90 cloud-based business applications. Ranked #1 in Overall Satisfaction by G2 Crowd, and #1 Small Business Sales and Marketing CRM by Fit Small Business, Nimble combines the strengths of traditional CRM, classic contact management, social media, sales intelligence and marketing automation into a powerful relationship management platform that delivers relationship insights everywhere you work.
Freshsales CRM
Freshworks makes it fast and easy for businesses to delight their customers and employees. Freshsales take a fresh approach to how businesses discover, engage with, and realize value from software throughout their journey.
Freshsales is a full-fledged sales force automation solution for sales teams. It provides everything a salesperson needs to— attract quality leads, engage in contextual conversations, drive deals with AI-powered insights, and nurture customer relationships. With built-in email, phone, chat, and telephony, Freshsales empowers sales teams with more time for selling by automating the sales process and increases efficiency and productivity in their daily activities. With Freddy AI, salespeople can get insights into the best deals to go after and what actions to take and predict revenue with sales forecasting.
Businesses can take the next step forward towards powerful pipeline management with Freshsales. Also, the option to use native CPQ makes generating and sharing quotes and other vital sales assets hassle-free. If you need a solution for your marketing teams to organize customer information, personalize and automate email campaigns, and find the right sales opportunities, then Freshsales Suite fits the bill. It is an all-in-one solution for sales and marketing teams. It provides sales force automation, marketing automation, chat, and telephony to meet your goals in one solution.
Pipeline CRM
Get a sales platform that offers easy setup, seamless integrations, and intuitive tools. With Pipeline CRM, you'll have everything you need to accelerate sales.
Pipeline CRM is the most adopted CRM for small and midsize businesses, empowering sales teams across a breadth of industries to build game-changing relationships. Pipeline CRM is built around an easy-to-use and customizable user experience, sales-focused features, and leading customer support and service. Today more than 18,000 users in 60 countries use Pipeline CRM to gain visibility into their sales pipeline to accelerate opportunities and close more deals. Sign up for a 14-day free trial. Make business decisions based on data you trust, not on a gut feeling.
Copper CRM
Win clients for life with Copper CRM
Copper Focus on what matters most: building enduring business relationships. We'll take care of the rest.
Copper is the easy-to-use CRM for small businesses that need to manage more sales leads & grow customer relationships—but don't have time for data entry, repetitive admin tasks, or complicated tools. Don't waste hours on typing things out—Copper integrates with Gmail and other Google Apps, so it logs all your emails and other interactions to the right contact for you. You can also see your sales and relationship essentials from email threads, to past interactions, to tasks… all in one place. Plus, never drop the ball—Copper even reminds you to reach out to contacts and follow up on deals. Join 10,000+ businesses in over 110 countries (speaking 7 languages!) in building more valuable, longer-lasting relationships.
SuiteCRM
SuiteCRM is an open source Customer Relationship Management (CRM) software solution that provides a 360-degree view of your customers and business.
SuiteCRM Making it easy for your Sales, Marketing and Customer Service departments to discover key information that will help you grow, retain and delight your customers. SuiteCRM has all the features you need to accelerate your business growth and provide exceptional customer experiences.
CRM Conclusions
Choosing and implementing a CRM solution is an important decision as well as a significant investment.
It should be carefully considered with regards to your unique business needs and operations. If you are in the process of choosing a CRM solution, here are some points to consider before making your decision.
First, be sure to define your objectives. Examples of such objectives could be to get more leads, improve conversion rates, manage your sales teams, upsell to existing customers, etc. Secondly, what type of
technology or support does your company prefer to work with? Do you prefer to maintain your software yourself via an on-premise server or utilize a cloud-hosted solution maintained by the software vendor?
Additionally, what is your budget and internal competencies? On-premise solutions are preferred by large companies because they provide increased control of the platform and can assist in overcoming security
concerns. Alternatively, online solutions are advisable for SME's as the customization and costs (hosting, maintenance, implementation service, etc.) are usually minimal or even included in the base rate.
Once you have weighed the costs and benefits associated with these factors, your business can better analyze the potential solutions available on the market. When comparing the features of each solution,
remember to consider the functional needs of the employees using the system in their daily operational tasks. Also, consider the business needs of decision makers in the organization; an optimal solution will
support the efforts of all users.
Be sure to pay close attention to the usability of the system you choose. Simplicity contributes to a faster adoption of the software for users, and ultimately allows the salespeople in your organization to be more
productive. In terms of usability, Pipedrive and Odoo allow for more advanced features to be learned and adopted quickly compared to the rest of the solutions on the market. Most CRM solutions offer a free trial,
so it's easy for businesses to test independently in just a few minutes.
As many CRM experts have mentioned, the future is mobile with integrated solutions supporting multi-channel sales and efficient communication. A mobile tool allows your employees to react quickly to
customer requests while an integrated tool can seriously save time, empower users to operate more effi-ciently, and help maintain a clean, unified database.
Lastly, don't forget to look at the big picture. If a company's long-term goal is to grow its sales volume, the best approach to choosing a CRM solution is to start with a solution that can follow that growth over time.
To accomplish this, a flexible solution with robust features that can offer tools which work in tandem with the CRM to manage the business would be the ideal choice for a scaleable and cost-effective solution.